Unicorns, those magical mystical creatures that are popping up all over the place,  have been around a lot longer than you might think. They've been THE trend of 2017 and I believe this will follow through into 2018.  I created this business trend insight guide initially for my TigerLeap consultancy clients and retail buyers.
It was published back in August on my members only Tigerleap brand discovery portal,  but I had so many people ask me if they could see it, that I decided to publish it openly and on my personal site. If you read right to the end of the report after all the photos of stores or #shelfies as I like to call them, there are some very interesting interviews too, from real life unicorn lovers.
WHATS IN THE REPORT AND HOW IS IT MADE? 
Within this report I will cover; the background and history, what I feel are the drivers feeding this trend, what's happening in retail stores, what the future looks like and of course, I've selected a couple of Unicorn products for your perusal.  Plus right at the end are a number of bonus interviews, from some very cool people.
AND THE THEME TUNE IS…
Whilst reading this article feel free to listen along to Kototama, a Helsinki based Drum and Bass collective with their tune Unicorn debunks anxiety. It's actually pretty good. Kototama refers to the Japanese belief that mystical powers dwell in words and names.
UNICORN HISTORY 
Unicorns have been around since time began. They may look different in their current cutie guise, but they have been mentioned in folk and fables from the dawn of time. Time magazine mentioned a Greek doctor named Ctesias who travelled in the 4th century B.C through Persia and Iran.
"The horns were multicolour, and that the animals were so swift and powerful that "no creature, neither the horse or any other, could overtake it." Ctesias
Bright Masih, Head of Head of Sales and Marketing at AW Digital said,
"Unicorns are the embodiment of the free spirit, the independent mind and the perfect. They are everything we aspire to be and struggle to be. Even the Bible describes an animal, the re'em, which some versions translate as unicorn."
Refinary29 Magazine, the US / UK online trend magazine wrote a whole piece on the Unicorn trend and where it came from in May this year. In their fascinating report, they interviewed, Vaughn Scribner, an assistant history professor at the University of Central Arkansas who studies mythical creatures. He said:
"This obsession with unicorns is nothing new — with social media, we've just found a different way to show it," "In the 18th century, the smartest men in the world were running around trying to find unicorns and mermaids and monstrosities.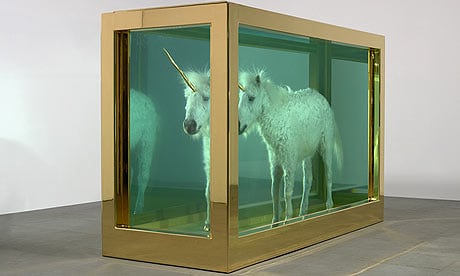 Shoot forward to 2009 and Damien Hurst showcased a unicorn picked in formaldehyde, which sold for £6m.
Artin Clark, artistic director at Tate St Ives, spoke to The Guardian  and he said,
"The unicorn is a powerful symbol of good in early pagan mythology and is still associated with fairytales and the mystical landscapes of King Arthur in Britain and Cornwall"
MARKET DRIVERS TODAY 
Moving closer to the present day, Unicorns are now everywhere, but why?  What's driving this trend?
It started picking up real speed 2016 and it appears to be growing and growing with no sign of slowing down.
Google Trends with Keyword Unicorn 

Most of the people that I interviewed could not define a specific moment or thing that got them into unicorns. What is apparent is that there is a link between unicorns and a whole heap of other trends, which perhaps is the reason, why they have come to pervade so many different groups and tribes of people.
Your initial thought maybe that Unicorns are just for kids.  Again, after the research,  I think there is certainly growth with kids, but the biggest potential is with the adults.
Us adults seem to have latched onto this trend with gusto.  Trump, Brexit, ISIS all seem unconnected but could all be factors driving adults to lean more heavily towards escapism. With less and less of us drinking and indulging in unhealthy vices, anything that offers a way out of current reality could be a relief and unicorns are a simple and fun way to embrace something far away from reality.
Paul Buckley a marketing psychologist in speaking to Amy Lawrenson in Bydrie Magazine about the Unicorn Trend believes the opposite;
"It's known as social impact theory: The things closest to you will have the biggest impact on you. Big issues don't directly affect you. Yes, some people will worry about terrorism, but most people's problems stem from what's happening in their life and what's close to them. It's everyday hassles like emails, losing keys or getting locked out of the car that wind people up the most, rather than the bigger, more removed issues."
Unicorn Dreams: Artist Nico Niemi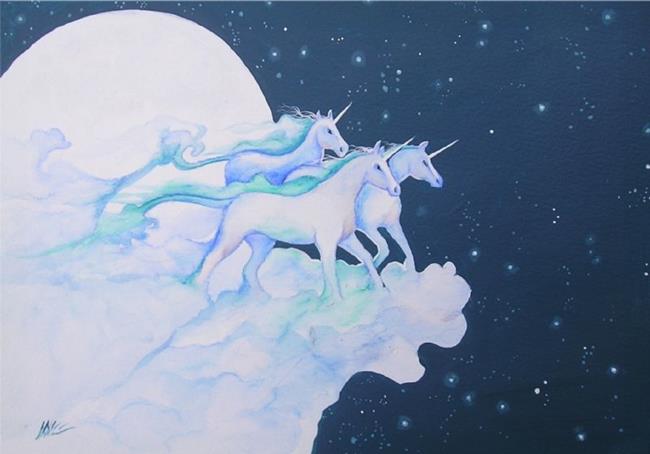 "Children's dreams are more fantastical than adult's dreams and, as the sculptor, Constantin Brâncuşi said, 'when we are no longer children we are already dead'."
In the interviews, Festivals, and festival attire came up frequently, with festival goers wearing a few sparkles, through to full-on outfits.  Think Coachella, Secret Garden party, burning man and the one where people apparently dress up the most – Bestival.
See image below with from Sophie Hannah Richardson, a UK, fashion, and lifestyle blogger.  With 374k Instagram followers and 12k likes on just this post, she's like many other influencers is pushing the unicorn culture wider and wider.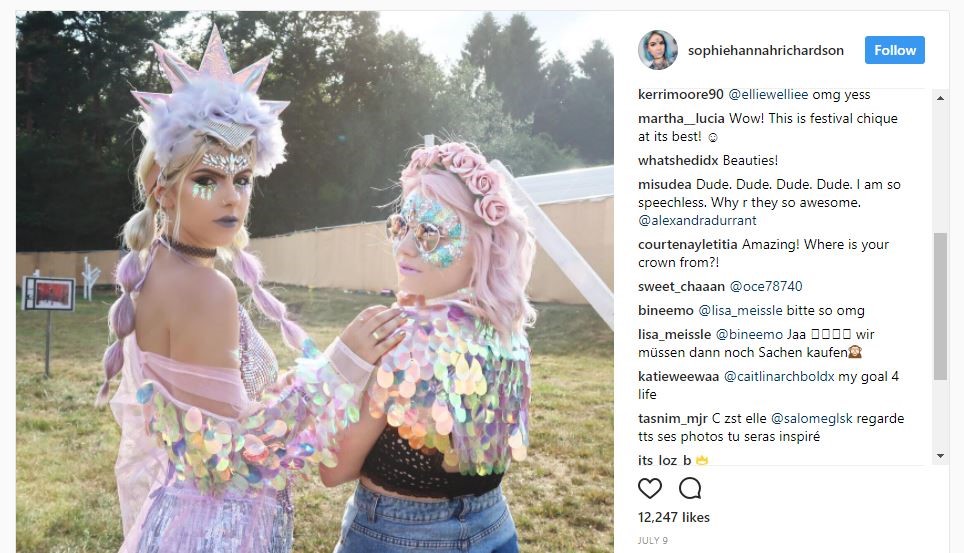 Festival culture and dressing up,  has come to be a major influence on summer dress. They are such big business now across Europe and the USA, and the outfitters wilder and wilder, that high street stores are catering from them, as well as a wealth of bespoke sellers selling across Instagram and Pinterest.
Note the festival headdress in Topshop!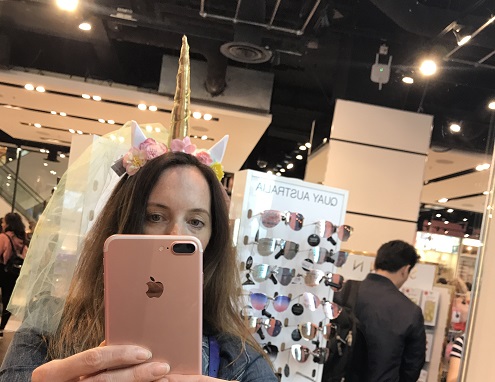 The unicorn headdress (above) are massively popular, according to the girls at Lola's cupcakes stand, that sits in TopShop. I asked them why they didn't have unicorn themed cakes?  She told me: "They are on Exclusive at Selfridges, you have to go up there and queue"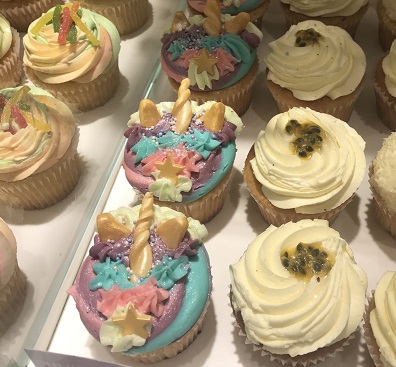 When I got there, not only did they have the unicorn cupcakes, but also look at that marvellous milkshake. And yes there was a queue and it was very busy at 7.30pm on a Monday night!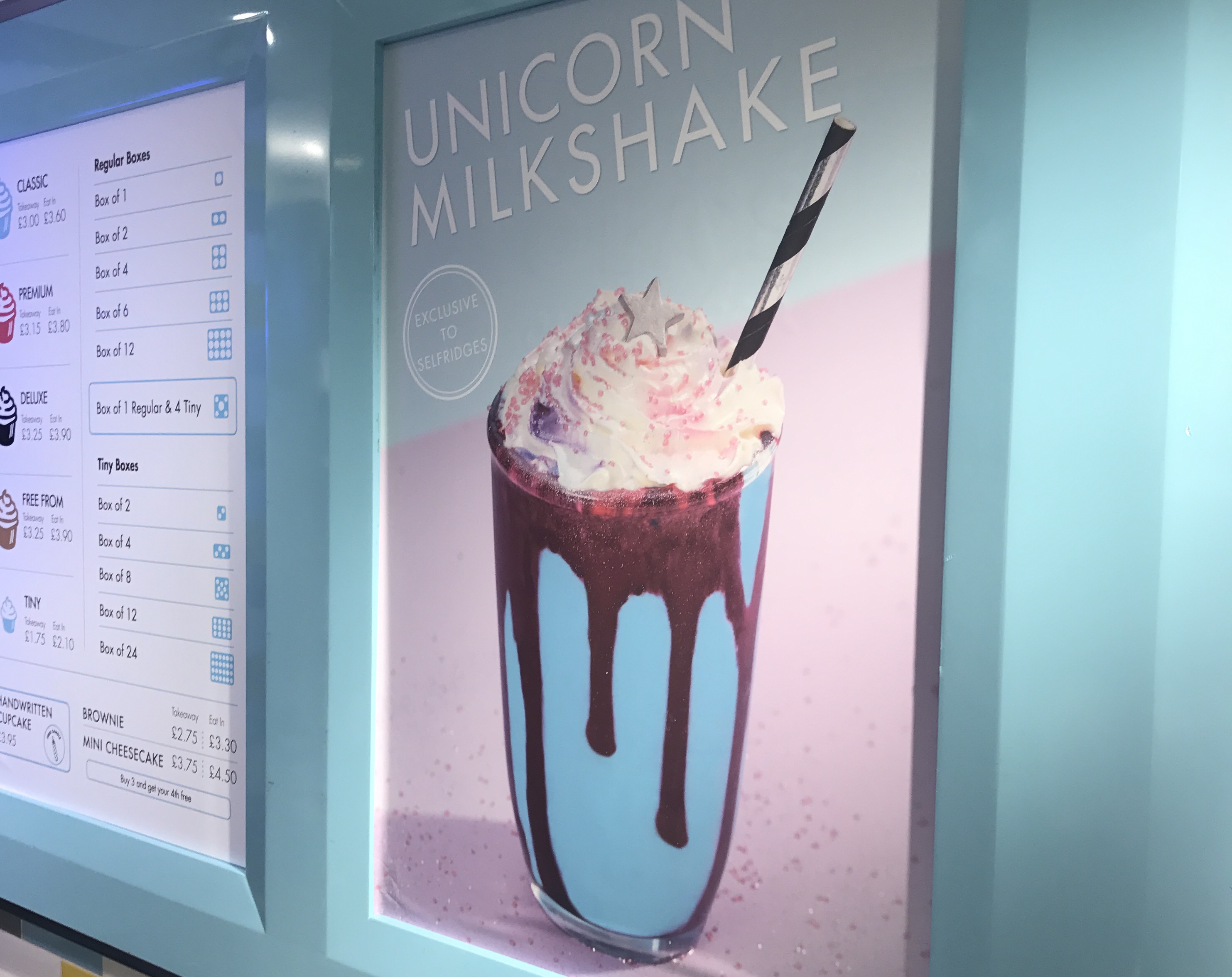 Instagram and Pinterest being so visual are huge drivers of any major trend as anything that can be photographed, will be. It also gives groups and tribes of people easy access to #hashtags, influencers, and friends globally. Trends and micro trends are popping up all over the world due to this phenomenon,
Hair and beauty artists with hundreds of thousands of followers, that create complete looks, often focusing in on specific make-believe beings like unicorns. @Promisetamang with over a 1 million followers is a perfect example.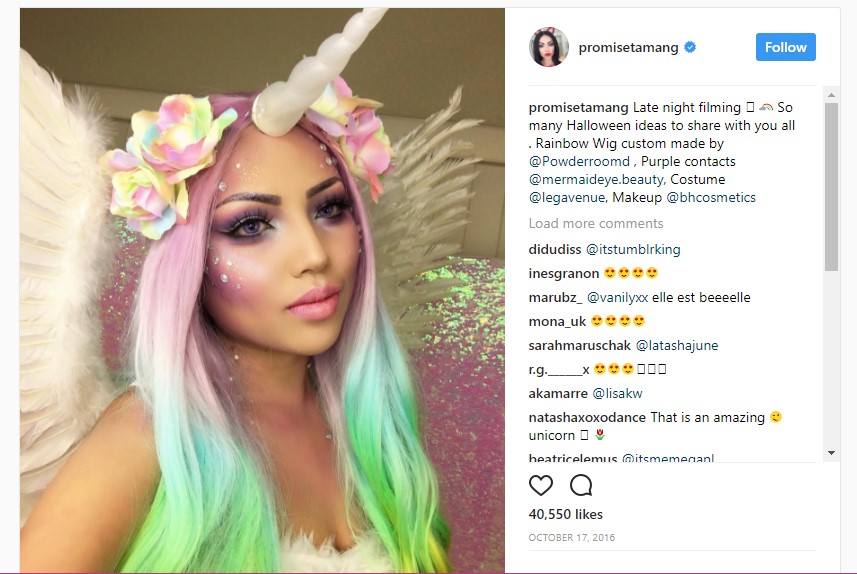 On a more accessible level, you have @Had-nails – Holly, who is a professional and very talented nail artist who works with the well-renowned @wahnails. This Salon is based in Soho, London and they hand create unicorn nails  3 + times a week. Ages generally 20 – 30's, sometimes older.  The design in case you did not realize represents the horn of the unicorn.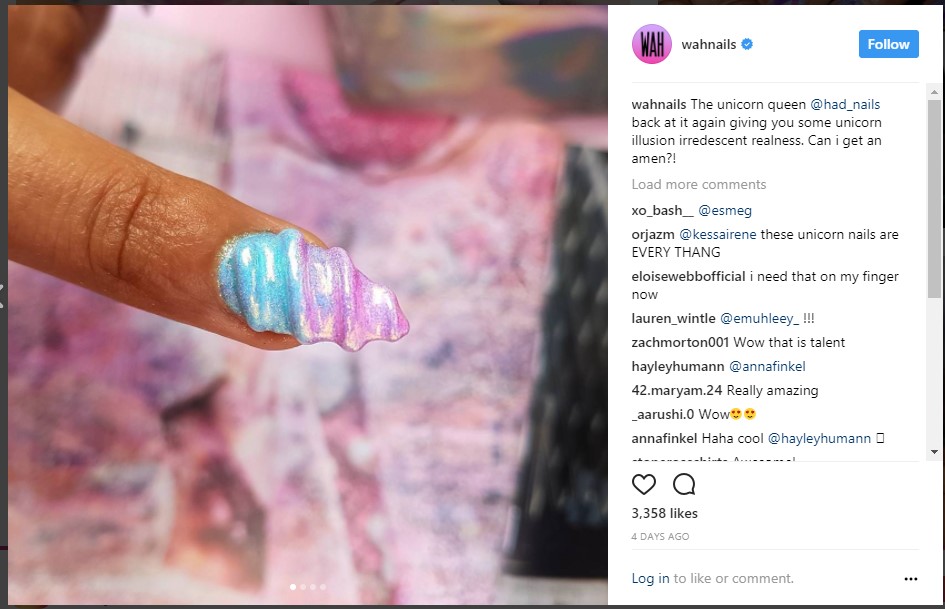 I asked Holly, why unicorns? She said:
 "Unicorns are a fun, free, cool thing, that people want to believe in. She thinks that they are not going anywhere yet. They have their own culture"
She was prepping that evening for her little girl's unicorn themed party, and afterwards, she gave me access to her personal account, where I could see that mother and daughter are unicorn obsessed. I feel like this is a common theme with many mothers and daughters.
I see it now with my mum and my niece with Frozen. You can't help as an adult, but be sucked in, when you are surrounded by the visuals, songs, toys, and merchandise. It takes you away from your day to day boring, repetitive and sometimes depressing life. If you read right to the bottom, I've interviewed a lady called Kerry and posted her full interview, where she describes this very thing.

In terms of films and books which are a huge driver of merchandising sales, My little Pony appears to be closely linked to the unicorn trend, and that's having a resurgence recently with new versions in store now. Hasbro has even created a spin-off called Equestria girl (above)  According to the My Little Pony website;
"This dynamic group of seven Equestria Girls is always there to save the day with the Magic of Friendship. Full-time students and part-time magical pony-girls, they are always ready to save the day"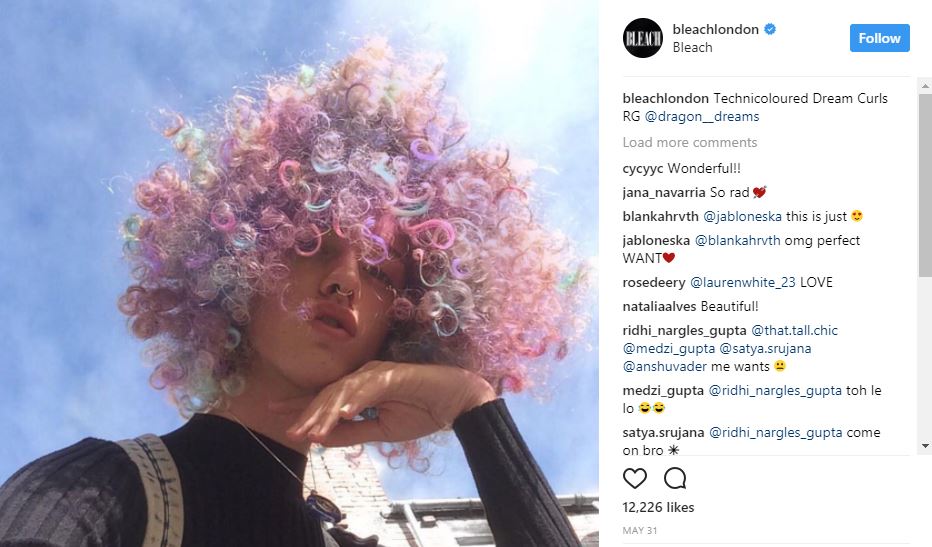 The resurgence of my little Pony and these girls have certainly helped drive the Unicorn coloured hair at Bleach. One of the teams that I spoke to at the super trendy hair colour salon in Soho with locations in Dalston ( East London) and a concession TopShop, said:
"Some of our customers just wear a dash of sparkle or glitter (they make personalized glitter makeup in store), others go for the full-on unicorn hair. Often they will bring in images for inspiration and relatively often it will come from a My Little Pony or an Equestria girl."
"Age means nothing. We have customers from age 9 to age 80, and not just one-offs, it's a significant amount of older people that go in for really crazy unicorn type colouring. People want to stand out and be original. You can literally create your own look, and then instantly be part of a cool tribe". 
The salon is well renowned for crazy colour and has been so successful that it's now ventured into makeup.   Alex Brownsell and Sam Teasdale the founders, partnering with Sams Twin sister Lou Teasdale (hair & make-up stylist for one direction) have created a full makeup and hair care line, that's now available in the Uk and the USA.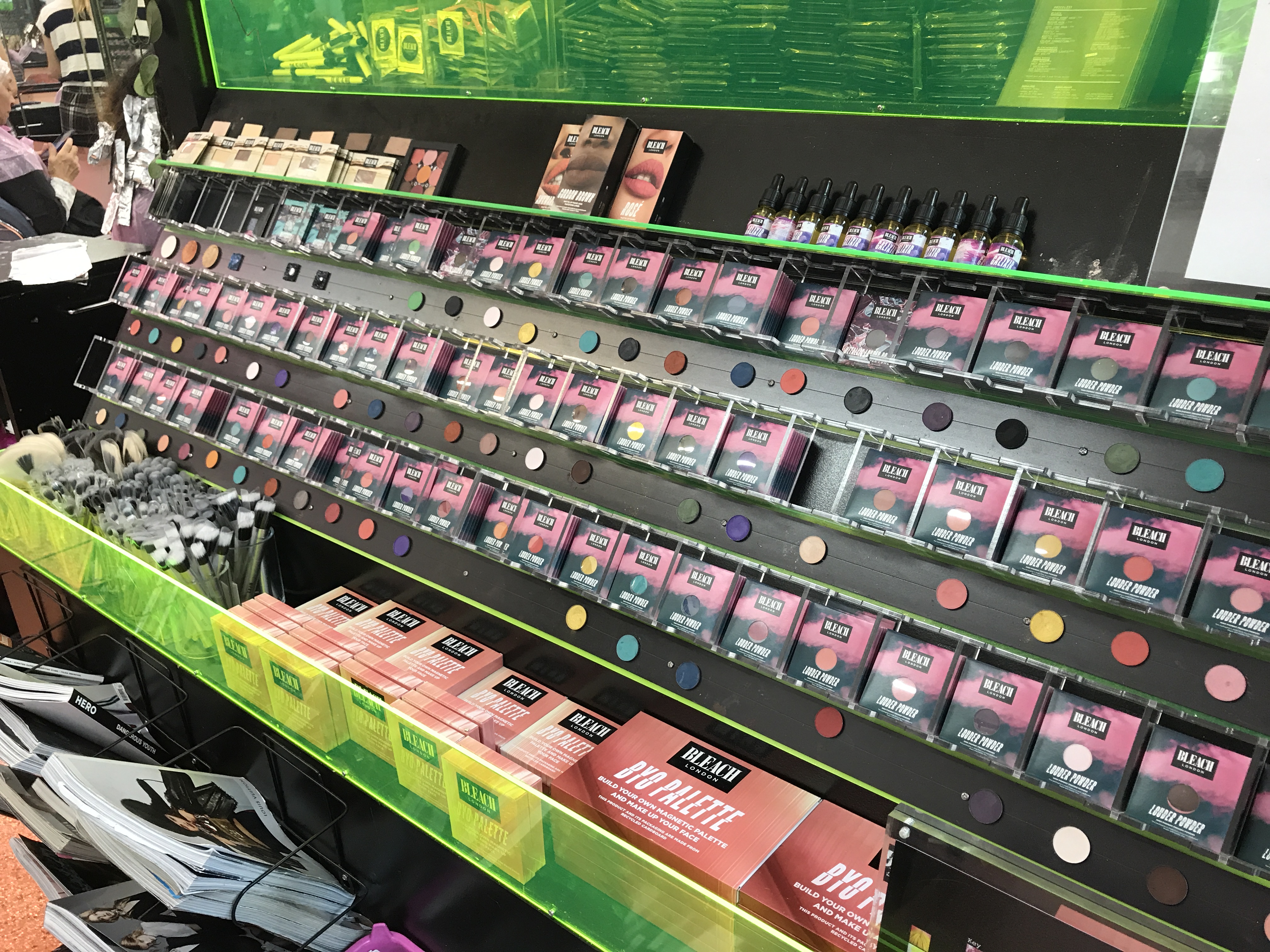 According to the evening standard, since the launch of its consumer range in 2013, Bleach has sold more than £10 million worth of hair products in partnership with Boots, with the count of retail locations reaching 1,200. This year, the brand will start to sell in Selfridges and more than 200 Superdrug stores across the UK.
Walking around Soho on a Saturday, I would say 1 in 10 people had some kind of unicornesque colour in their hair. From Liberty shop assistants to people shopping in Tesco you see a splash or a full head of colour literally around every street corner.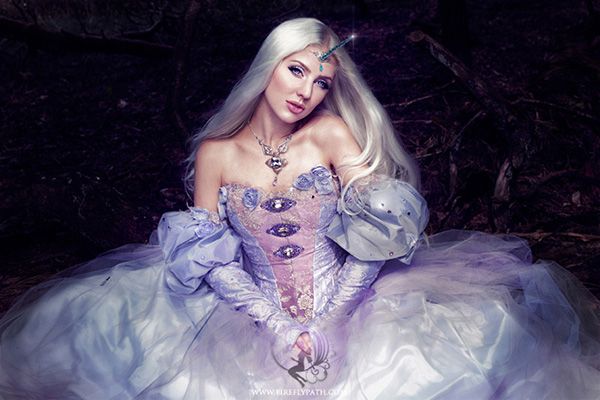 Moving on Cosplay, deserves a mention, short for Costume Play that came originally out of Japan, and is a hobby in which participants called cosplayers wear costumes and fashion accessories to represent a specific character.
There's a lot of Cosplay devoted to the animated film The Last Unicorn from 1982, with Mia Farrow as Lady Amalthea. See the link here on the fashionably Geek website devoted to the whole fashion shoot above. It's quite surreal, and the trend, on the whole, is growing massively in the USA and Europe with regular conventions popping up.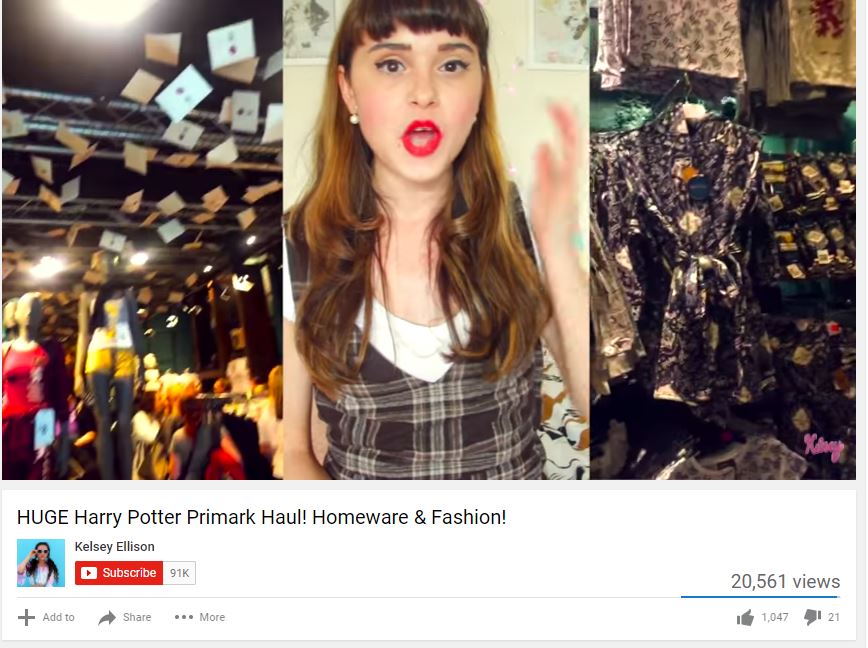 Harry Potter, has a lot of unicorn associations linked into it. This year is also the 20 year anniversary, so there's Harry Potter everything and everywhere. From film stars like Gwen Stefani throwing Harry Potter themed kids parties, to Primark doing a genius back to school collab with Harry Potter, kitting out a whole area of its store. Above you can see one of the influencers they collaborated with, Kelsey Ellison, who they invited to their launch, and details all the "swag" that they gave her. There's a whole host of these on YouTube right now, and of course, these guys and gals will be driving a lot of traffic to Primark.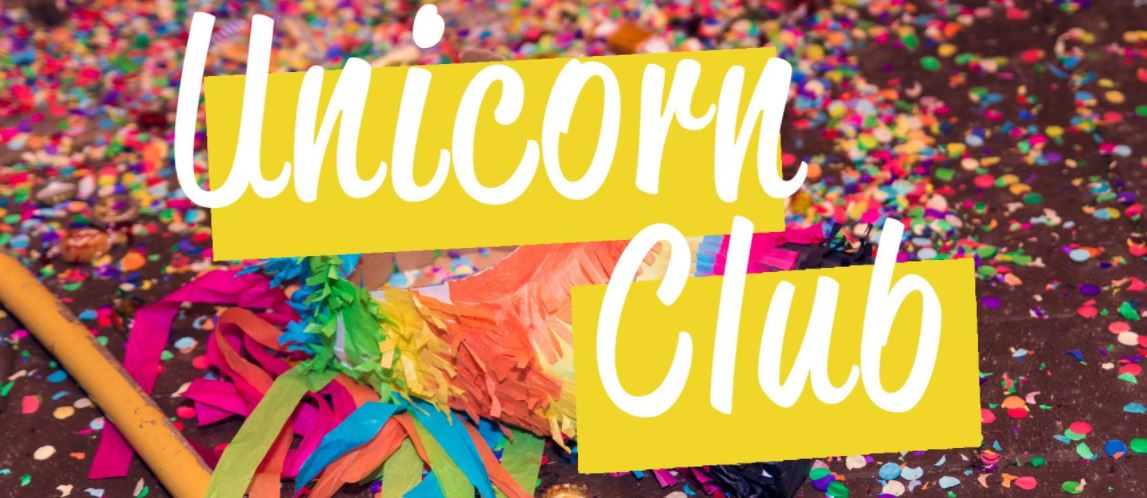 So in terms of trends and how they "play out" I've left the best until last.  Honestly, I think someone needs to work with Marie Claire on an in-store experience. ( all her details are at the bottom of the report)
Marie Claire calls herself the professional rebel, she's a skilled photographer by day, as you can see on her profile, but she also creates fun escapist adult parties called the Unicorn club Image above), which are Unicorned themed of course. If you scroll to the bottom, you can read the full interview. As I upload this post now in late November, I actually had the chance to meet up with Marie Claire in London, as she was here on assignment. She's just as fun and cool in real life as I could have imagined.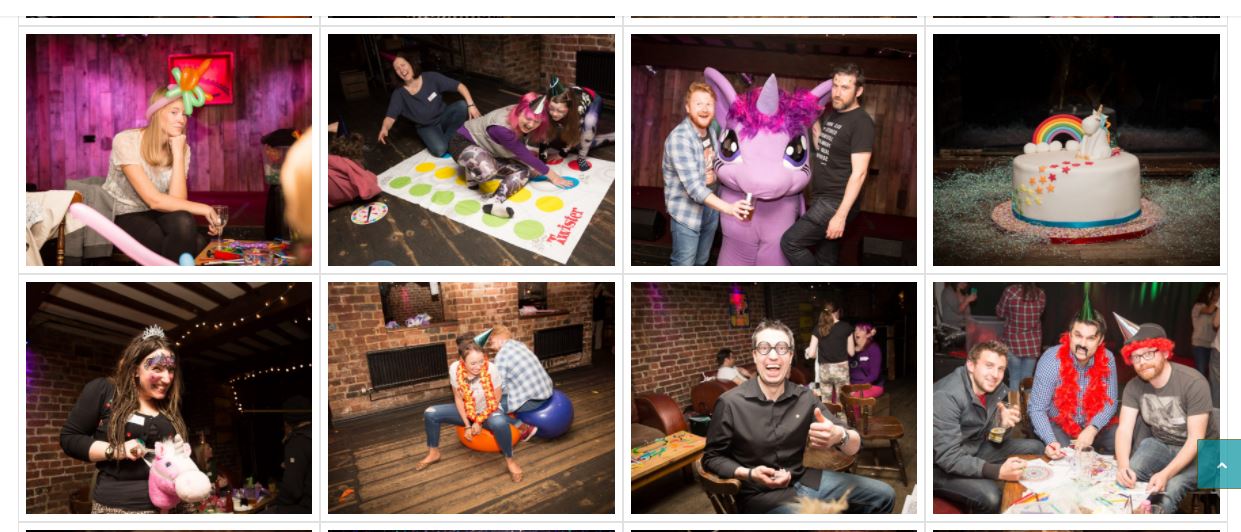 She has what she calls a Fuck it Bucket, where you write your worries down on a piece of paper, screw it up and put it in the bin before you enter. The parties are heavily unicorn themed and are for having fun. Which I think shines right through from the pics above.  Right now she operates out of Chester, but she's in talks to bring these parties to other parts of the UK.
Before we move on to the #Shelfie part, let's sum up with Victoria Buchanan from the Future Laboratory who gave me this quote;
"More people are looking for products that offer a sense of escapism and comfort. There seems to be a sense of nostalgia as well as spirituality to this trend". 
THE UNICORN SHELFIES
Not surprisingly unicorn fever is literally everywhere and from the stores I saw, the excitement I felt from the people I interviewed, it really shows no sign of letting up.
Let's delve into the stores and explore the retailer delights. Do bear in mind that it's still August, so most stores won't have moved over to the winter ranges yet, so I imagine we have more exciting unicorn products to come
August 2017 Shelfies (London) 
Pool toys, books, phone cases and colouring books. Also linked in with the crystals theme, mentioned by Victoria at The Future Laboratory, who said they saw it linking with spirituality.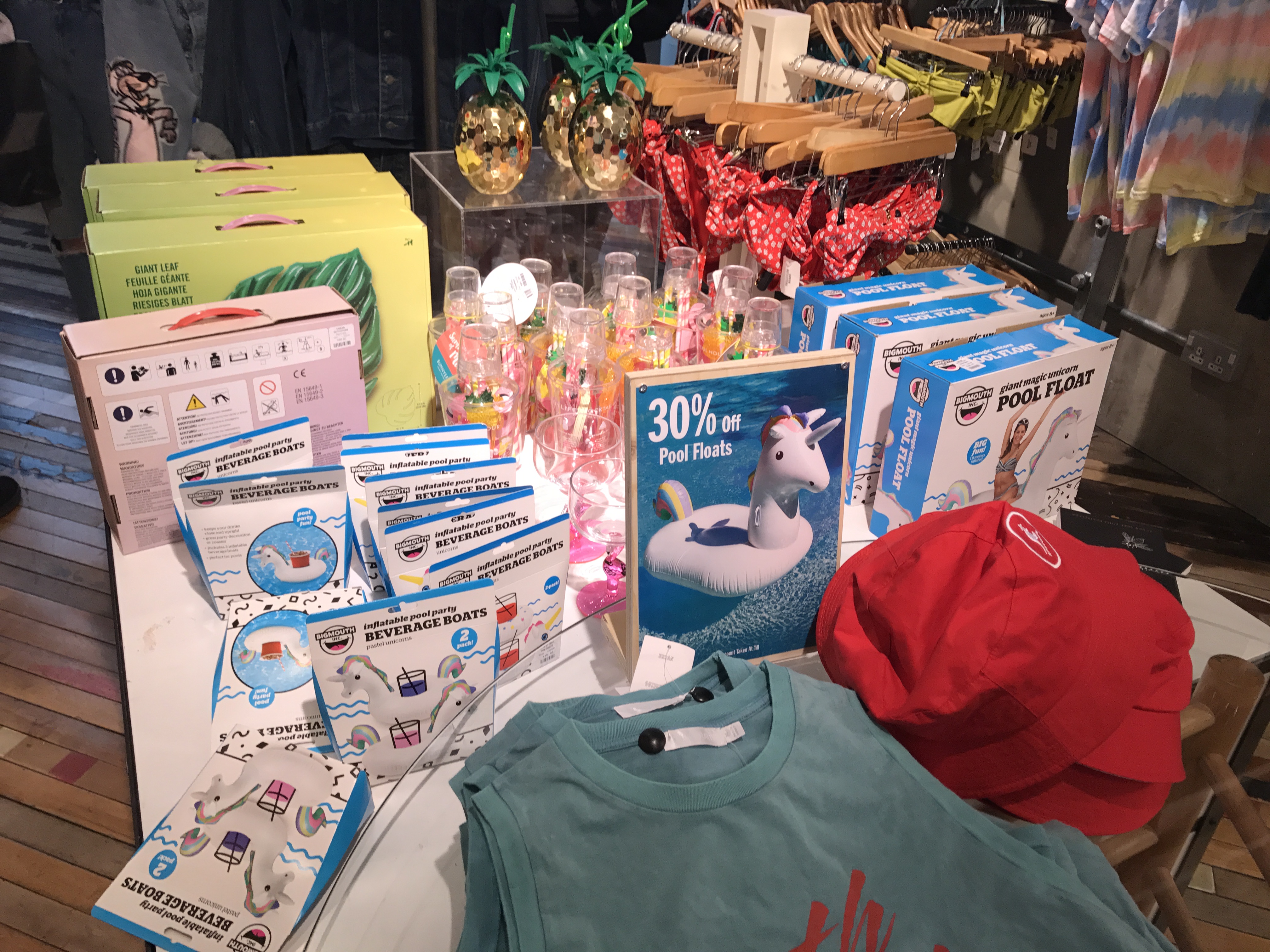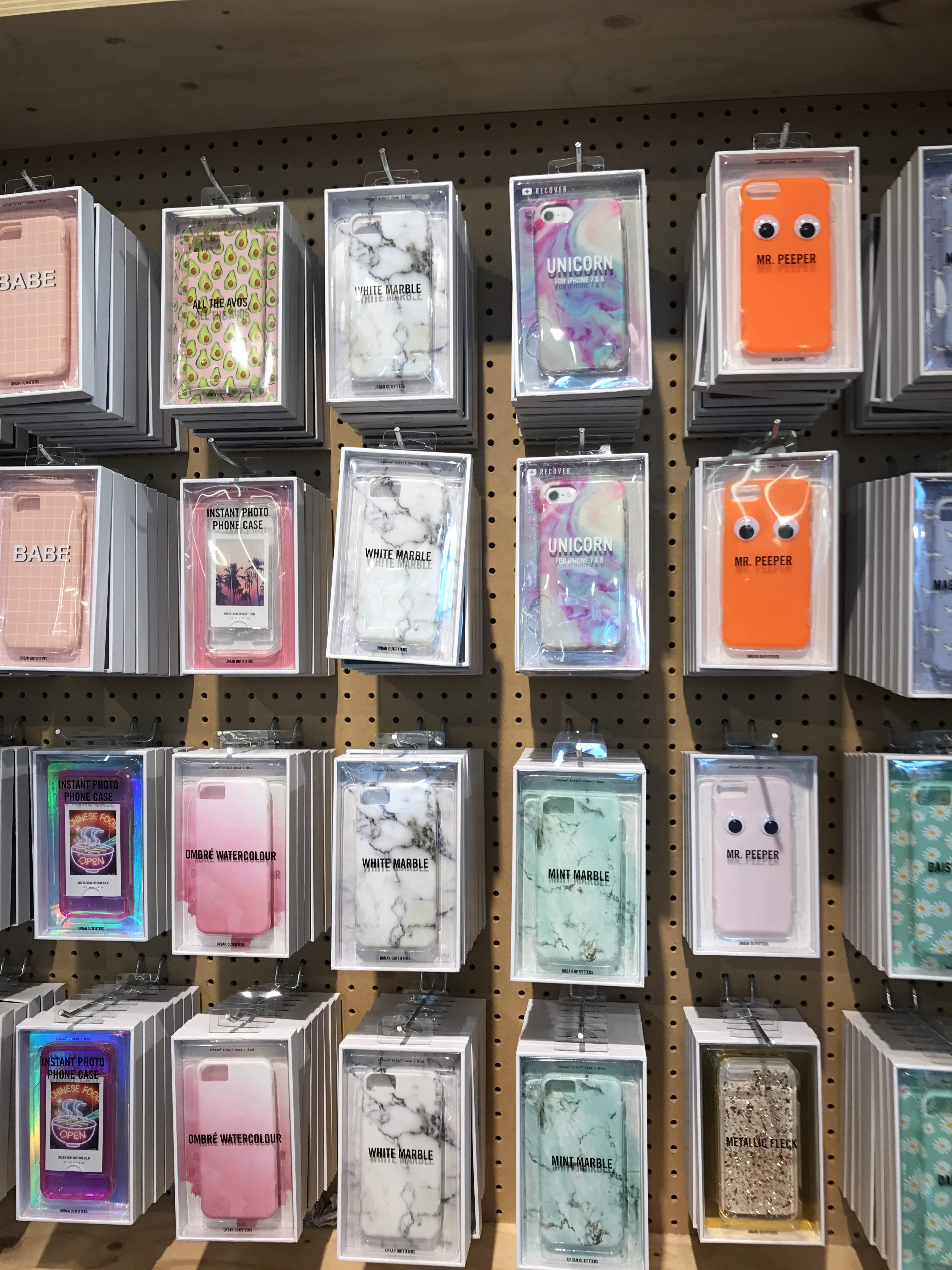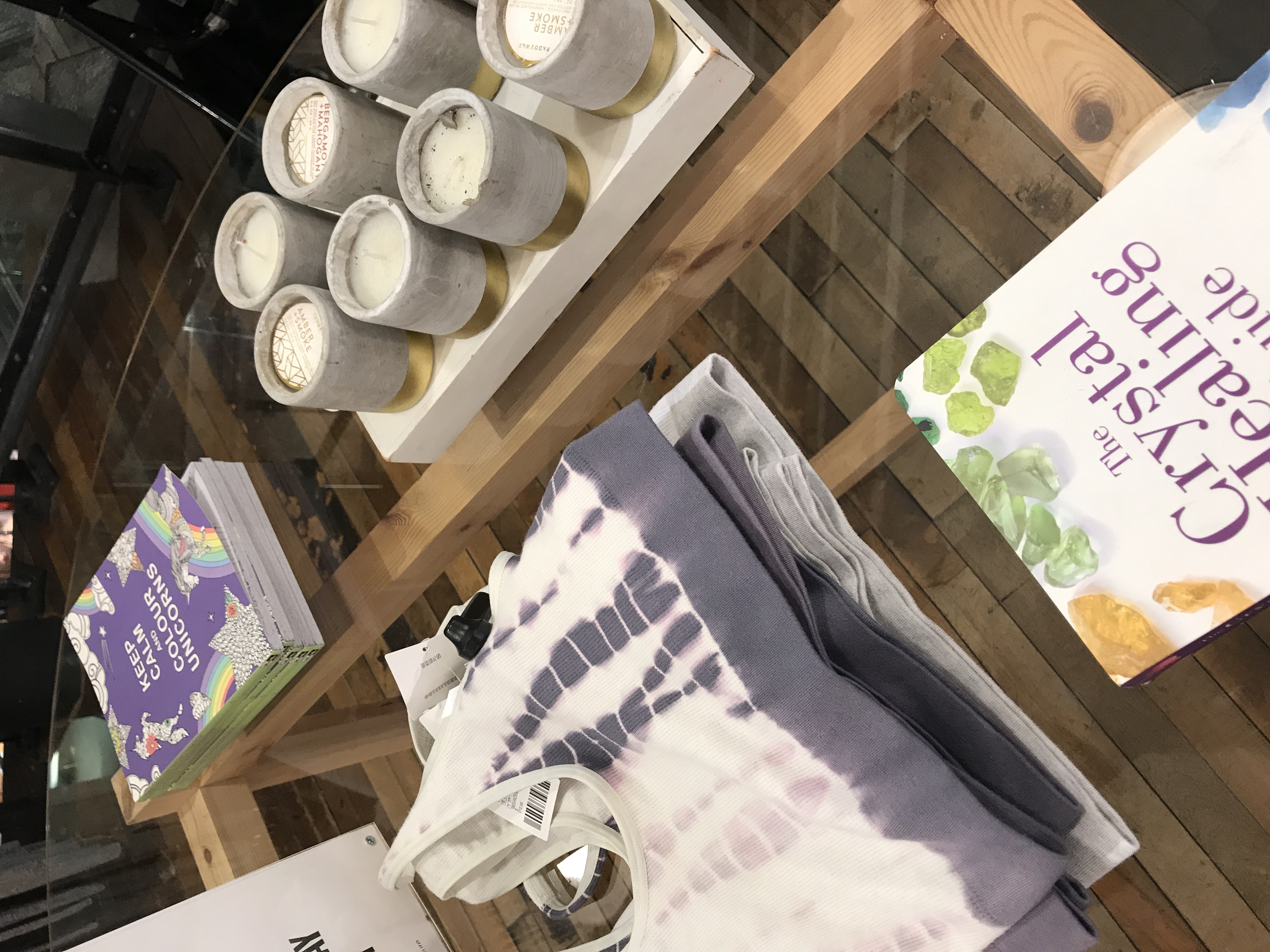 Liberty was significantly wilder than anticipated,  with its unicorn snot and its large unicorn head in the corner. The kid's cupcake kit was very cute though.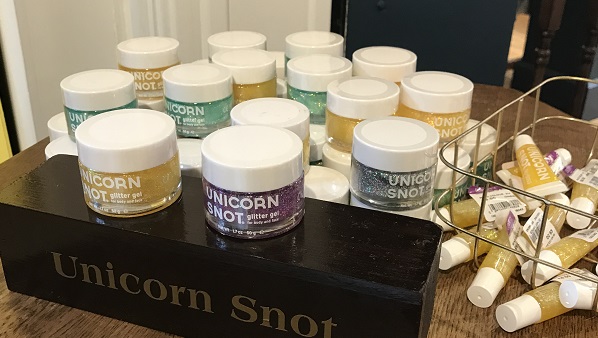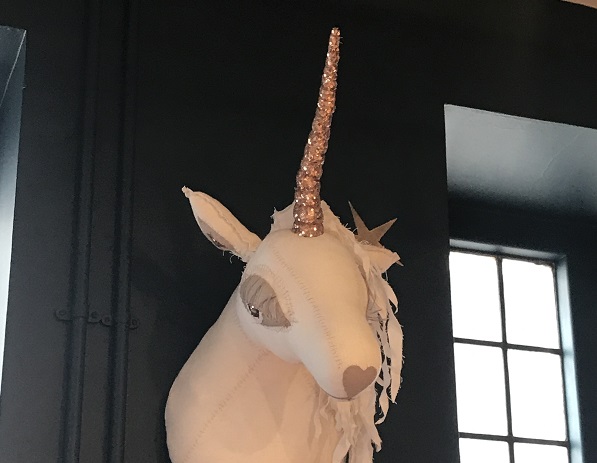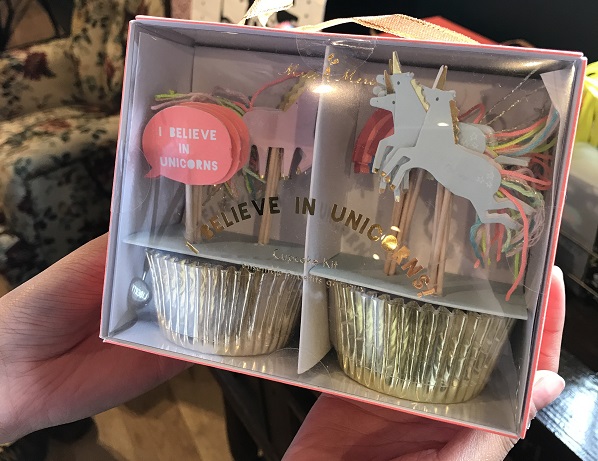 I took a look at most of the Selfridges estate, and I think I got most of the unicorns lurking around. In makeup, there were Unicorn Shower caps, in stationary crazy unicorn blow up horns, and paper clip dispensers.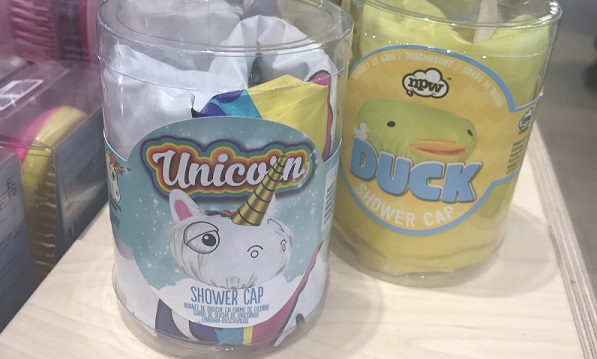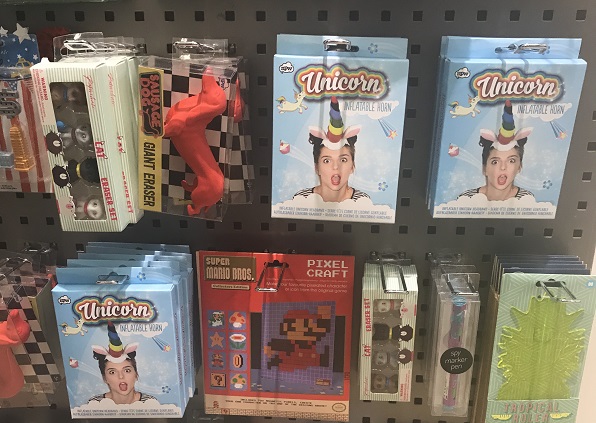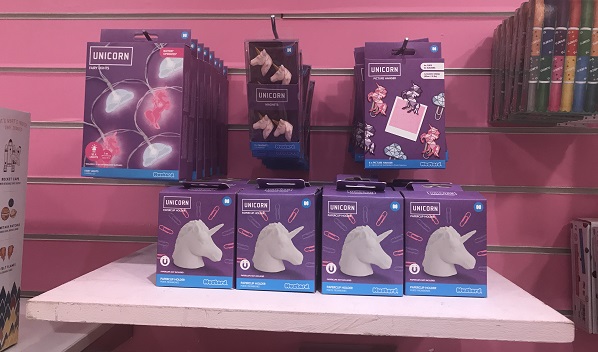 Then on to the kids department and there were the cutest unicorn trainers in Kurt Geiger, then a wall of Jelly Cat Unicorns, with a book. My Little Pony Merchandise that is not so very little anymore. They are huge. A wall of ugly unicorns from Despicableme ( I really did not want to even post these), and the best, an almost lifesize ridable unicorn. ( only in Selfridges!)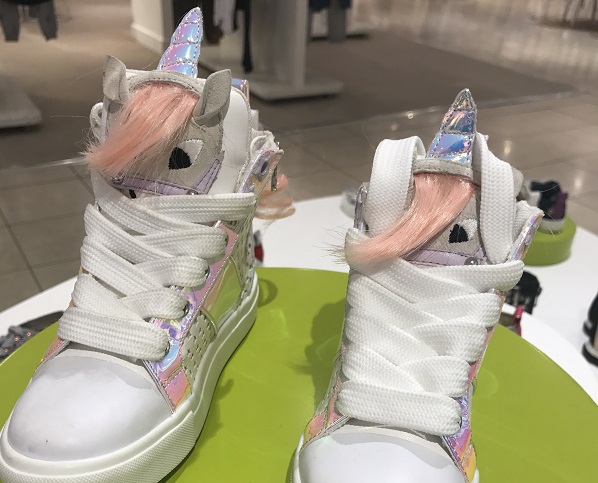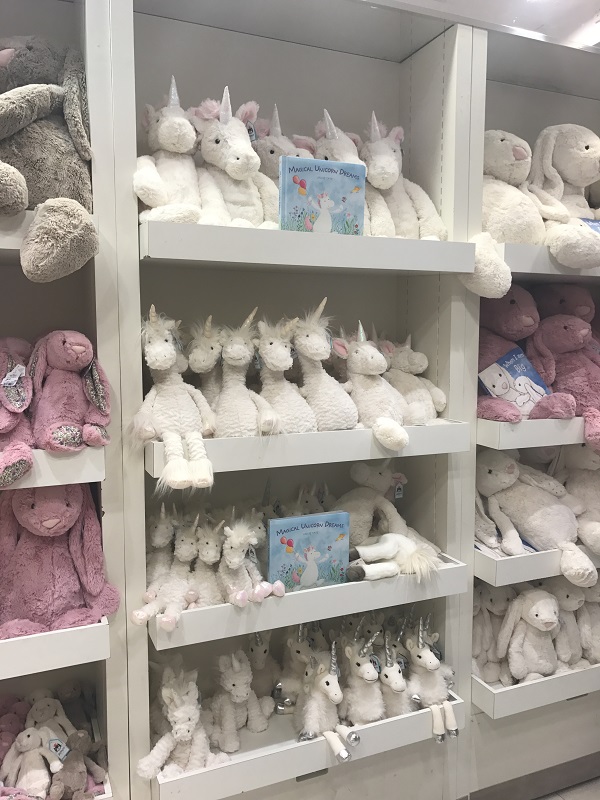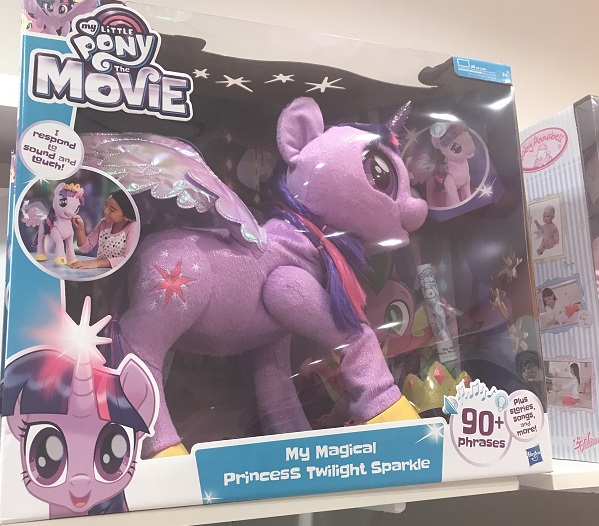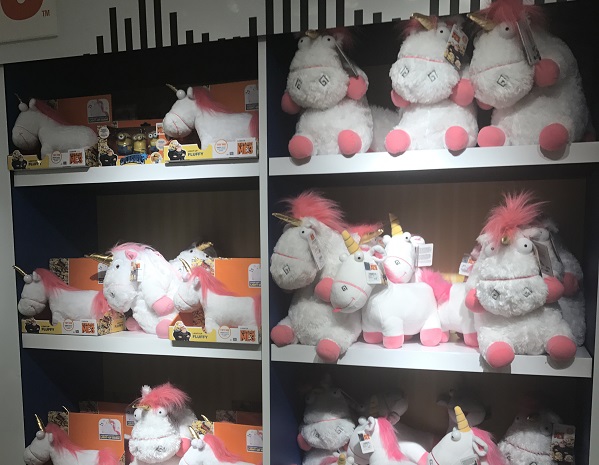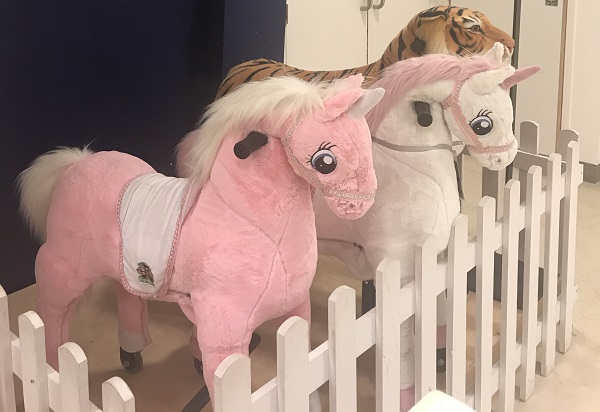 These guys love a unicorn. They were everywhere!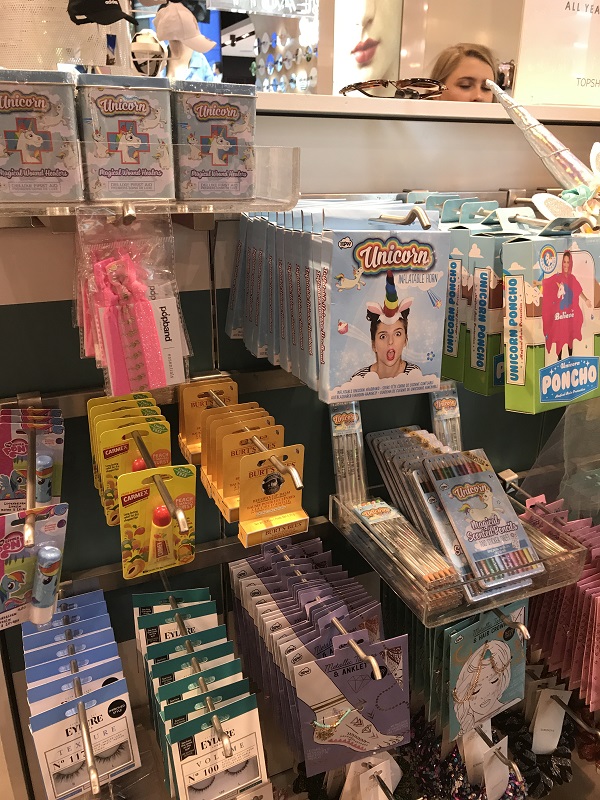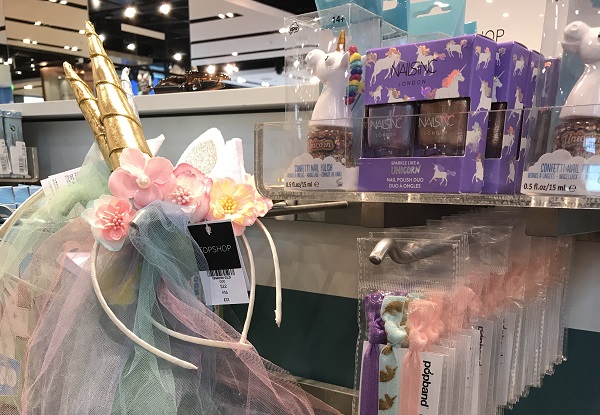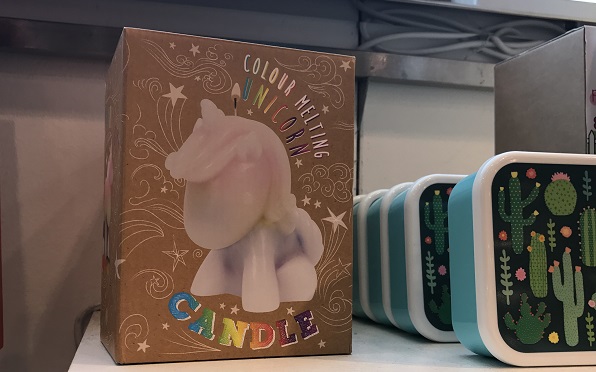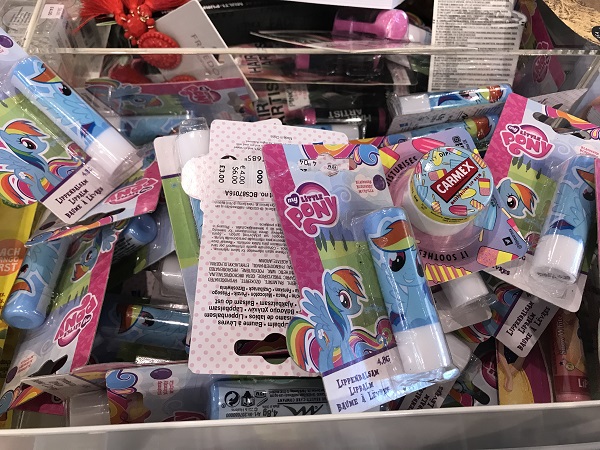 The online store, which is king of the cool gadgets, has a lot of unicorn products as you can imagine. Some of my favourites are below. The life-size unicorn, the unicorn tears (gin) and many many more…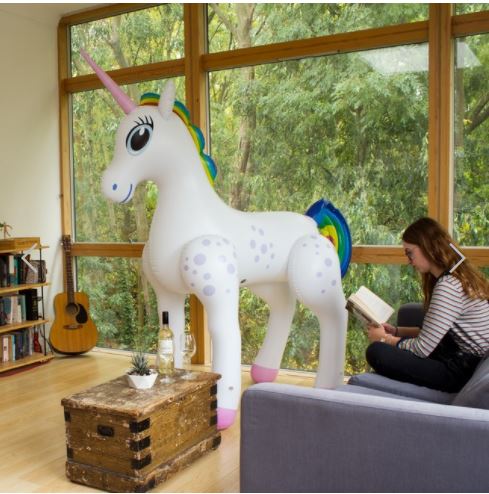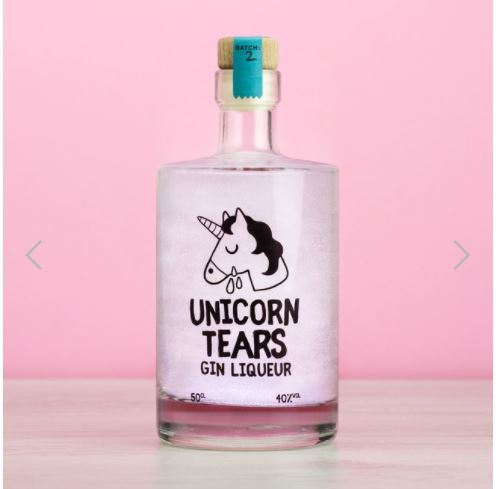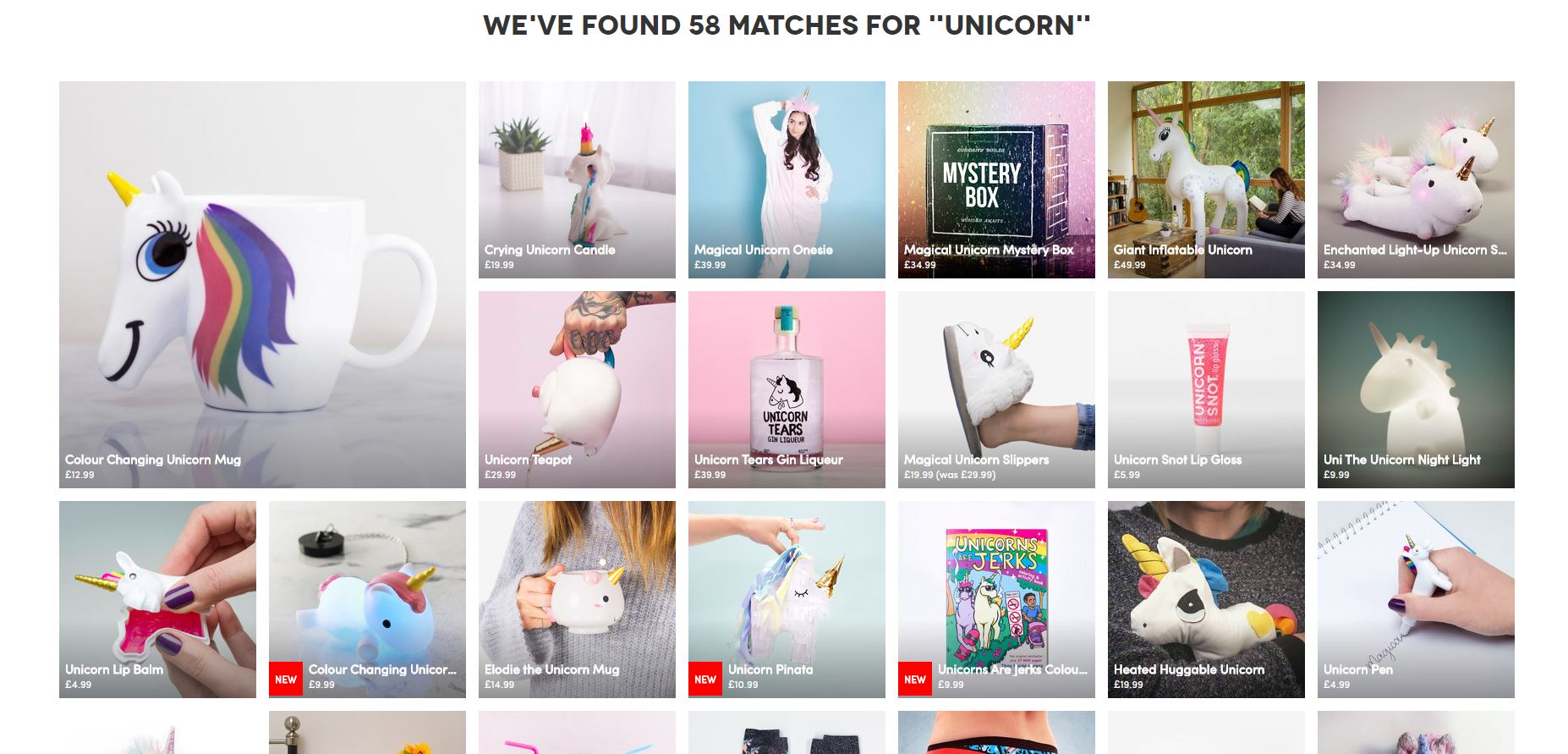 Bricks and Mortar and an excellent online presence, they always have something with the unicorn theme. As far as I can remember noticing which must be at least 3 or 4 years ago, I remember seeing unicorns in their stores. Below are some of my favourite Unicorn pieces.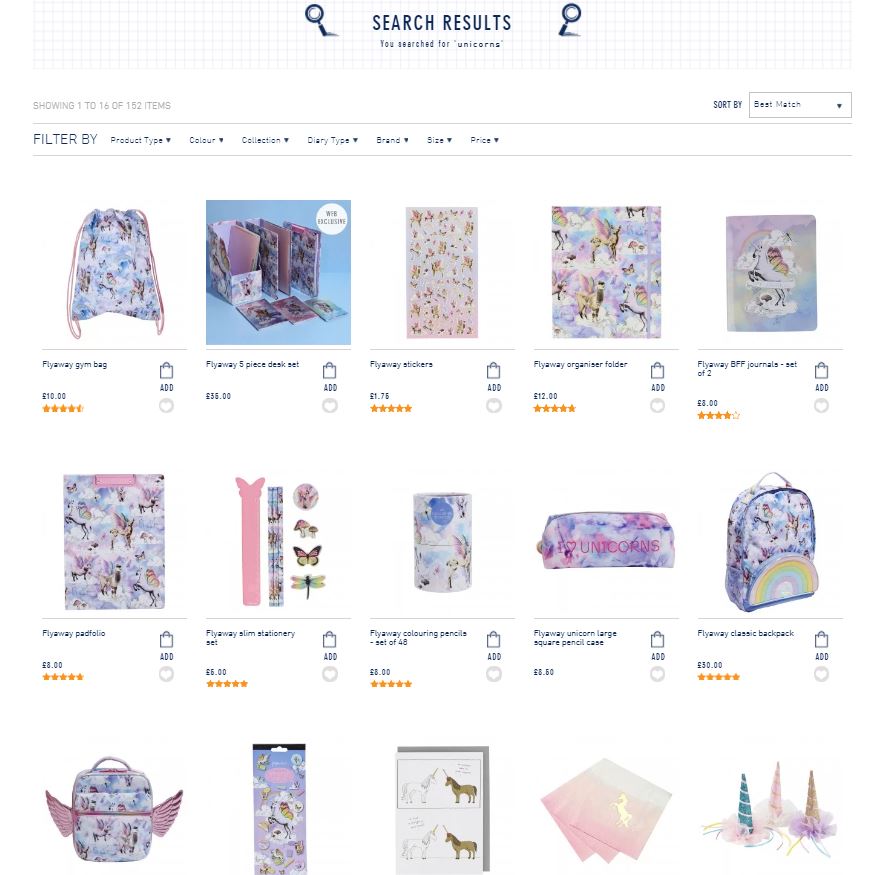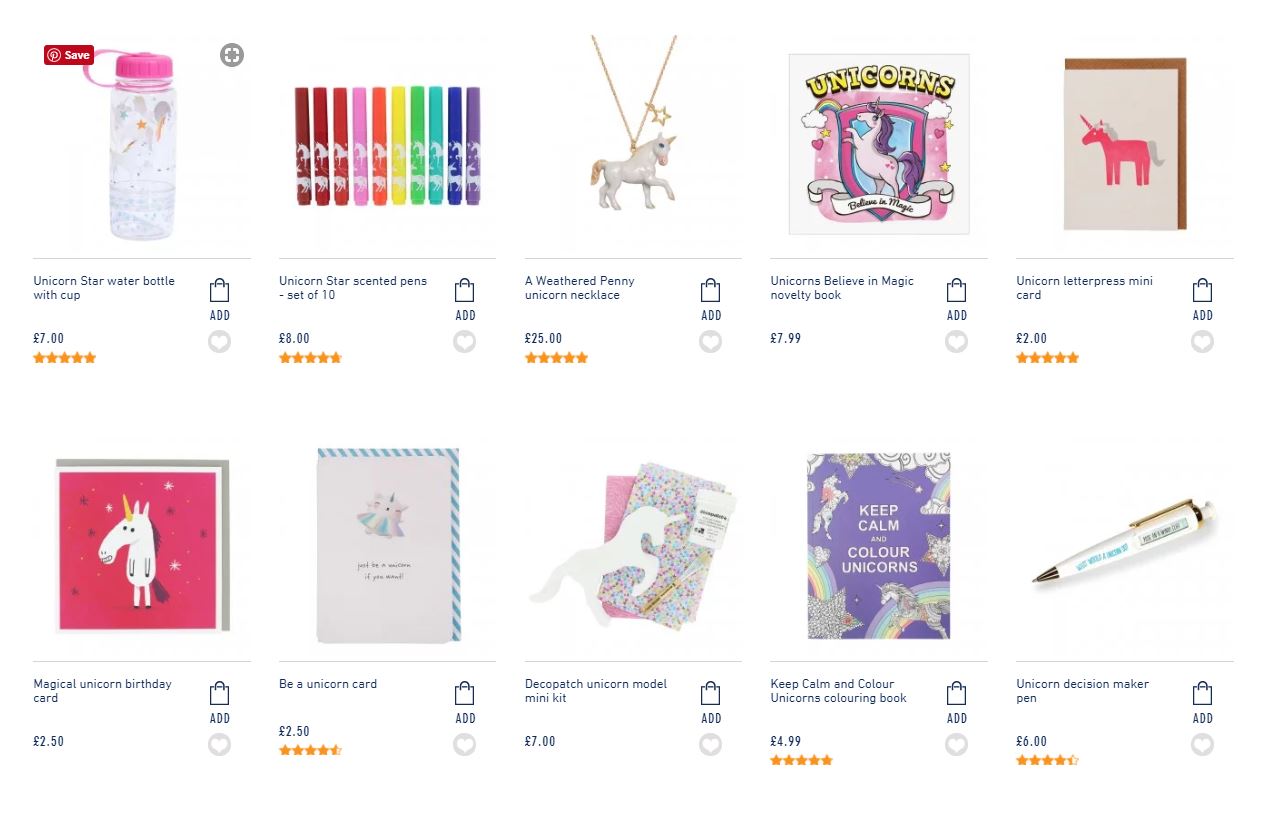 Just 6 shops, but with global shipping, this emporium of wonderfully outlandish designs is a mecca for accessories that make an entrance.  They have truly amazing collections and I was not disappointed by their unicorns at all. As you can see, they love them so much, that they have a giant unicorn right in the middle of their store!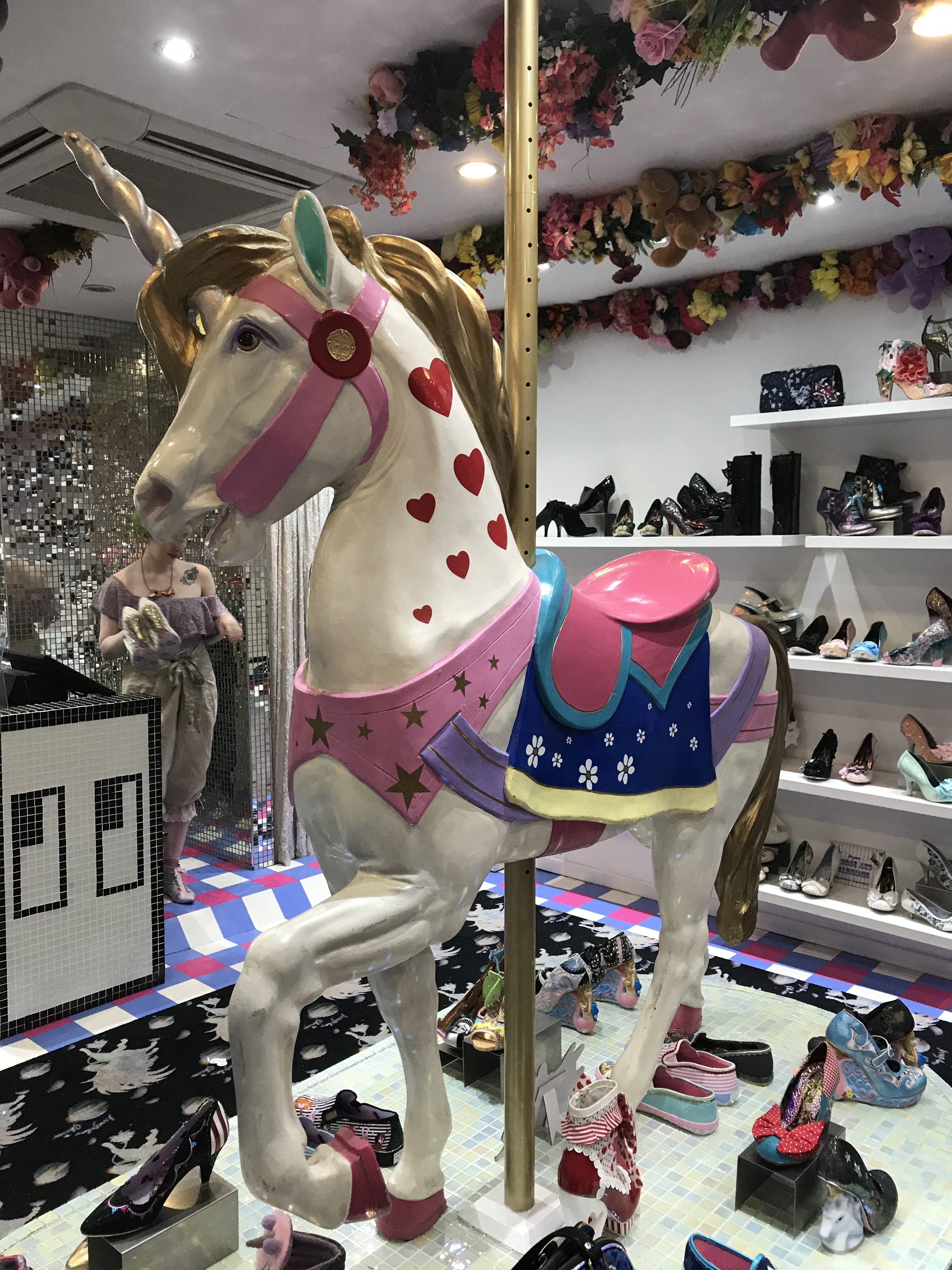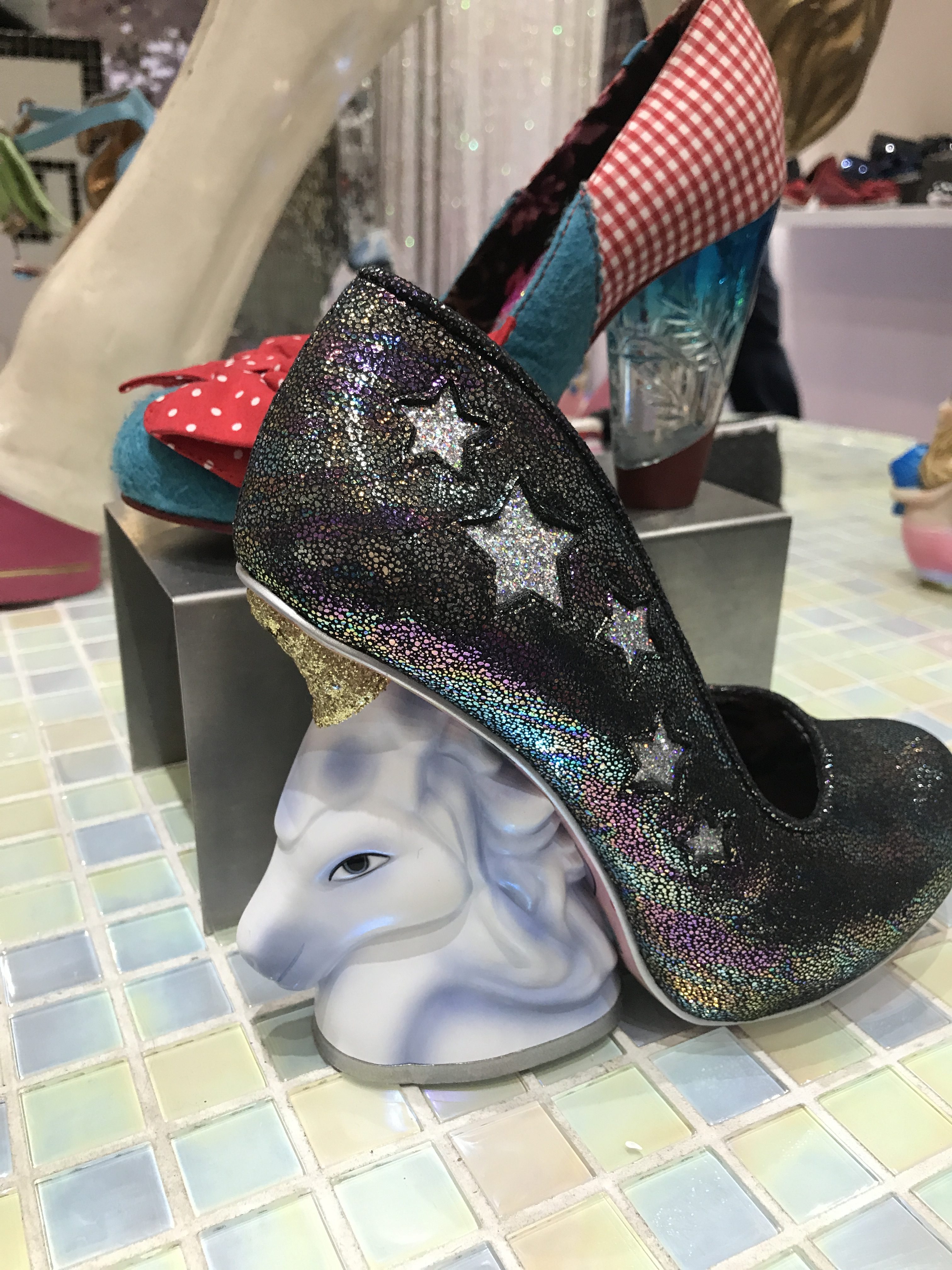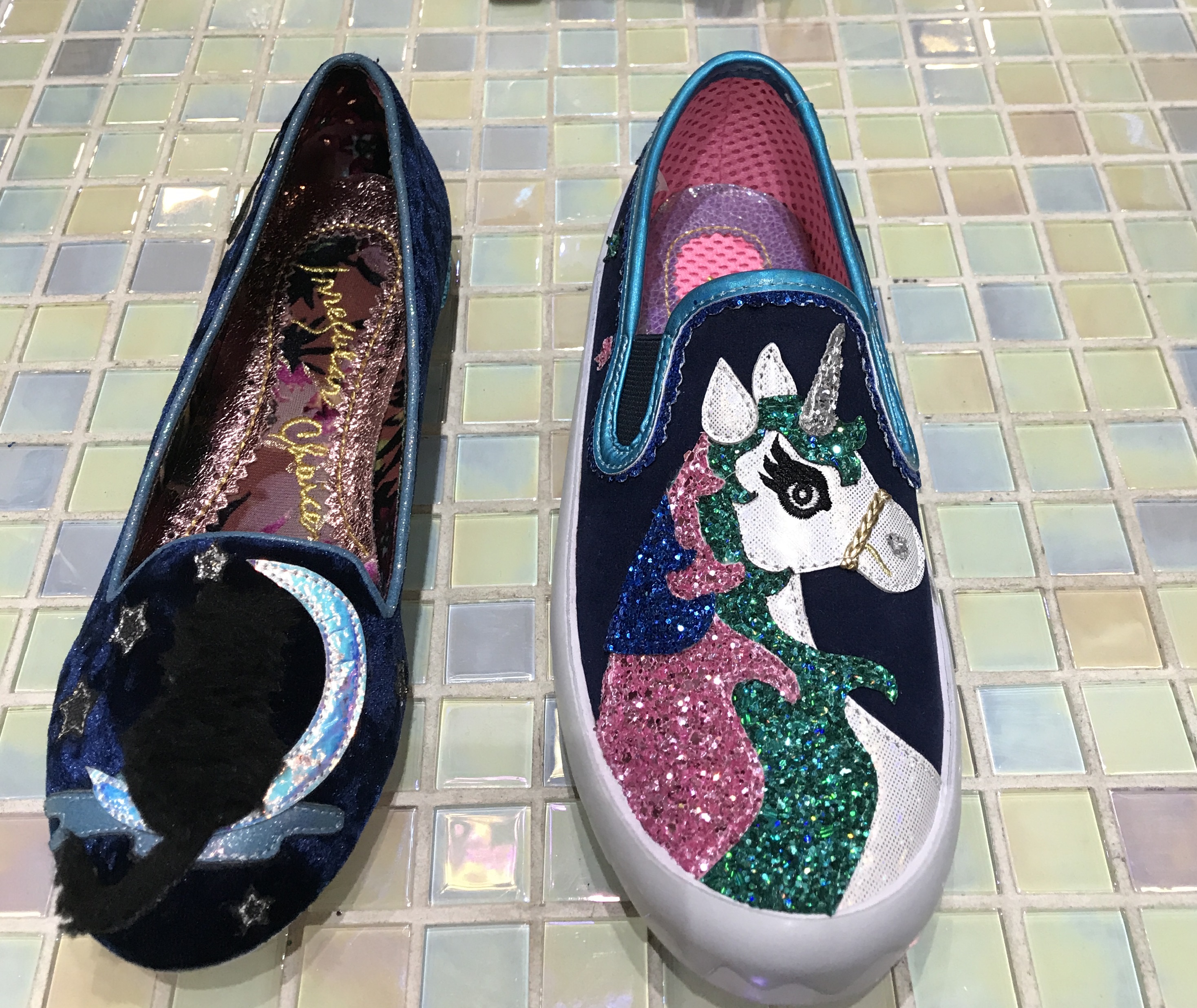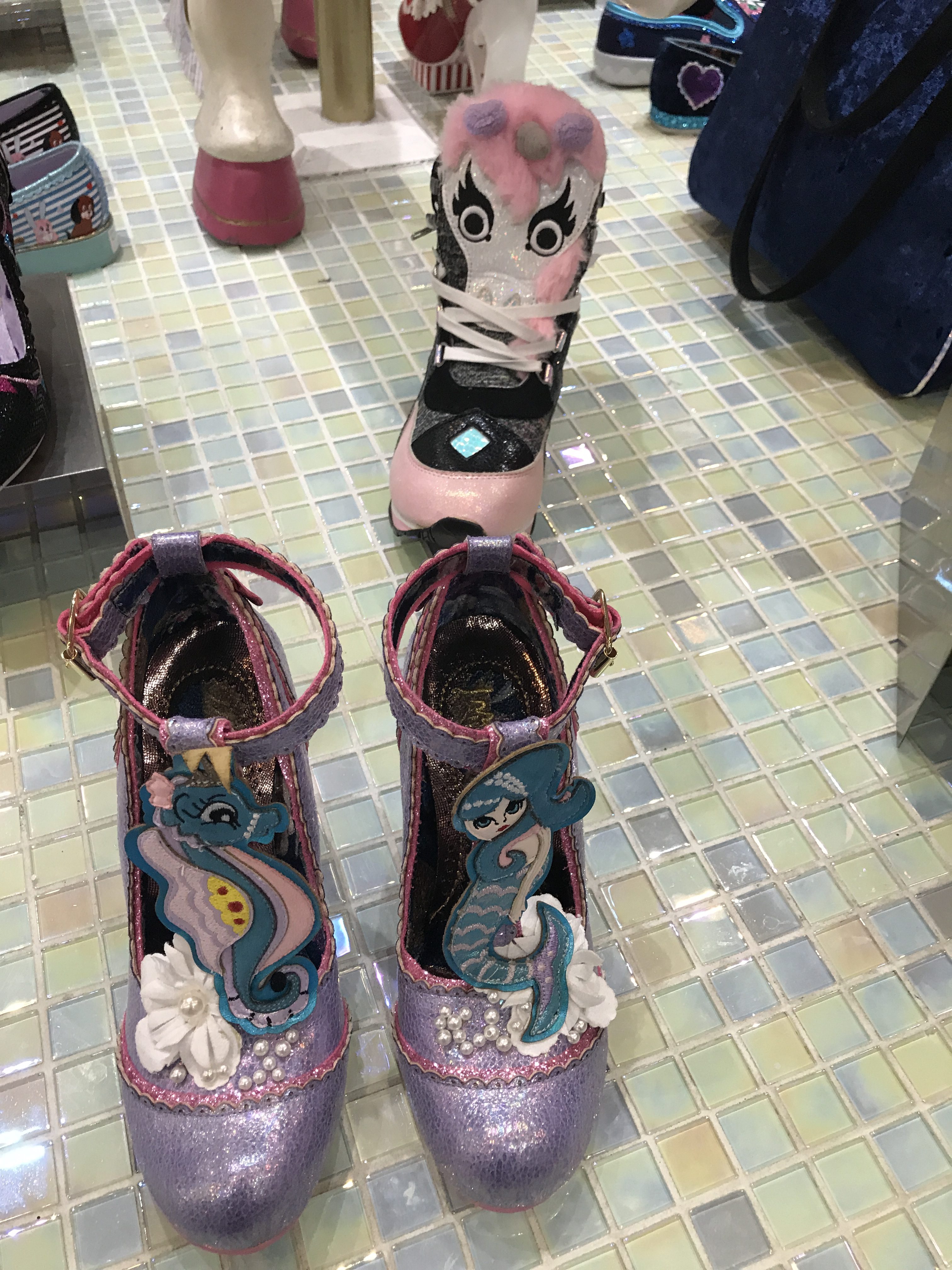 This online retailer may not be on your radar yet, as they were set up in just 2014, starting as an online slogan T-shirt company, but have grown and evolved massively since then, adding on lots of quirky accessories and gifts.
Their Tops have been worn by loads of influencers and they are mad about unicorns.  It's headed up by @rockonholly and @domandink, who I randomly met in a store a couple of years ago and have been Insta friends with ever since. If you scroll to the bottom of this report, you'll see a full interview with Dominik, who is an influencer in his own right.  He creates and illustrates for some of the hippest and trend-oriented magazines on the high street, as well as for this site. All the designs are his. Contact him here if you want to chat @domandink He has his finger on the pulse, and his interview makes for fascinating reading.
Below you can see some of the unicorn merchandise they have created for their following: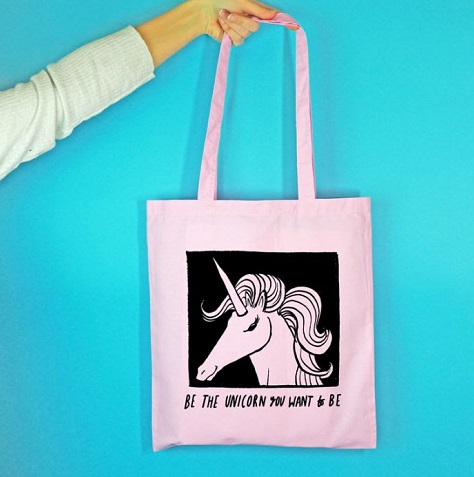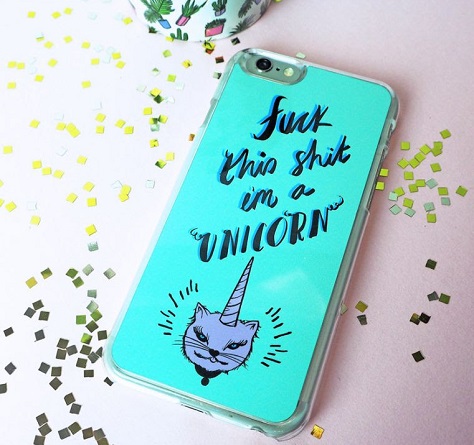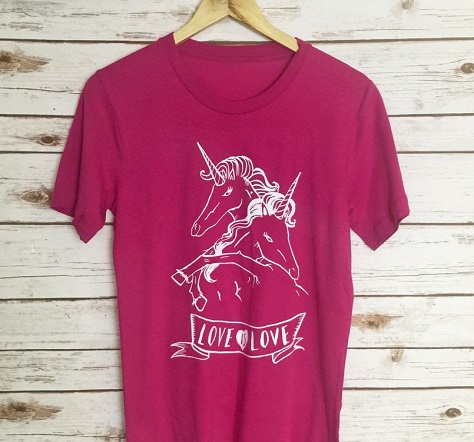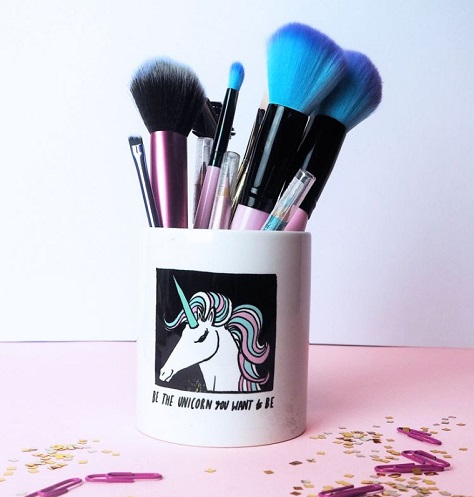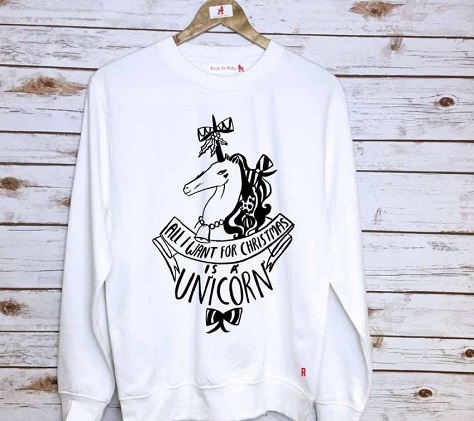 October 2018
Since I published this report back in August, just 2 months ago there has been significant moves forward in unicorn land.
Many more everyday items have been unicorned. Unicorn Frootloops, clothing and bedding ranges in the supermarkets, many more clothing items and accessories.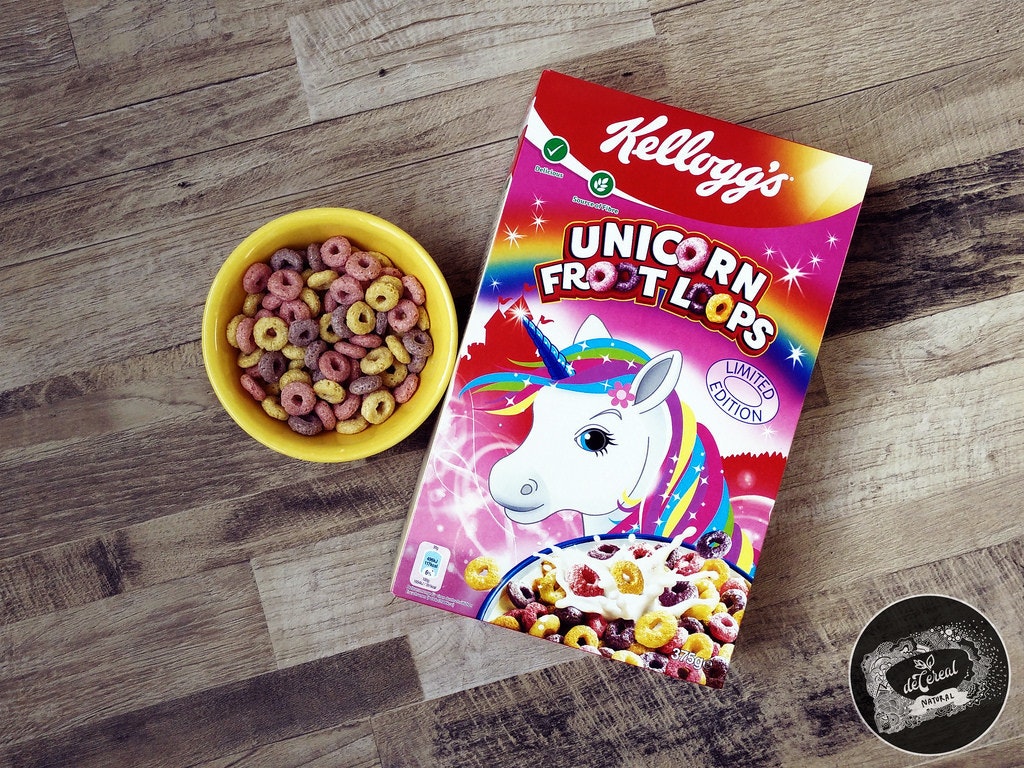 However, my personal favourite is that Jeremy Scott, the crazy creative director at Moschino has created a My Little Pony Range, just in time for the film. As we know, there is a significant linkage between unicorns and my little pony, so I expect this to be an added driver for unicorn merchandise. Not everyone can afford a £500 lunchbox, but you can afford a pair of headphones or a charger!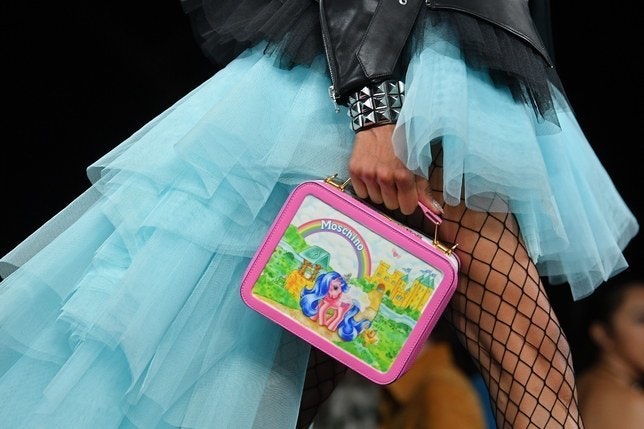 THE FUTURE OF THE UNICORN TREND
For Q4 and well into 2018 unicorns seem set to be a big trend, that sees no sign of slowing down. They are literally everywhere and are still being embraced by major retailers, as well as influencers.
Ignore them at your peril. There's a whole lot more to go in Trend Unicorn!

Image: Snog Soho
TIGERLEAP UNICORN RECOMMENDED PRODUCTS 
BUYERS GUIDE 
This section is the buyer's guide.  Below you will find the products/brands that I'm currently working with that fit in this unicorn theme.
I hope to grow this product section for you and get more brands on to this site to launch their ranges.  Do let me know if there is something specific you are looking for.
ReTrak Kids Unicorns Headphones
Animalz™ are Kids headphones created by ReTrak, that are fun, furry, and equipped with a volume-limiting technology to protect young ears. They belong to a larger group of Animalz, that include Lion, Frog, Monkey and Bunny.
From all the research above, you can see that Unicorns are not just for Kids. we feel that these will be really popular with Kidults too!
You can buy these at HMV and Amazon, 
Also, there is a headphone and unicorn back up charger bundle at Brighthouse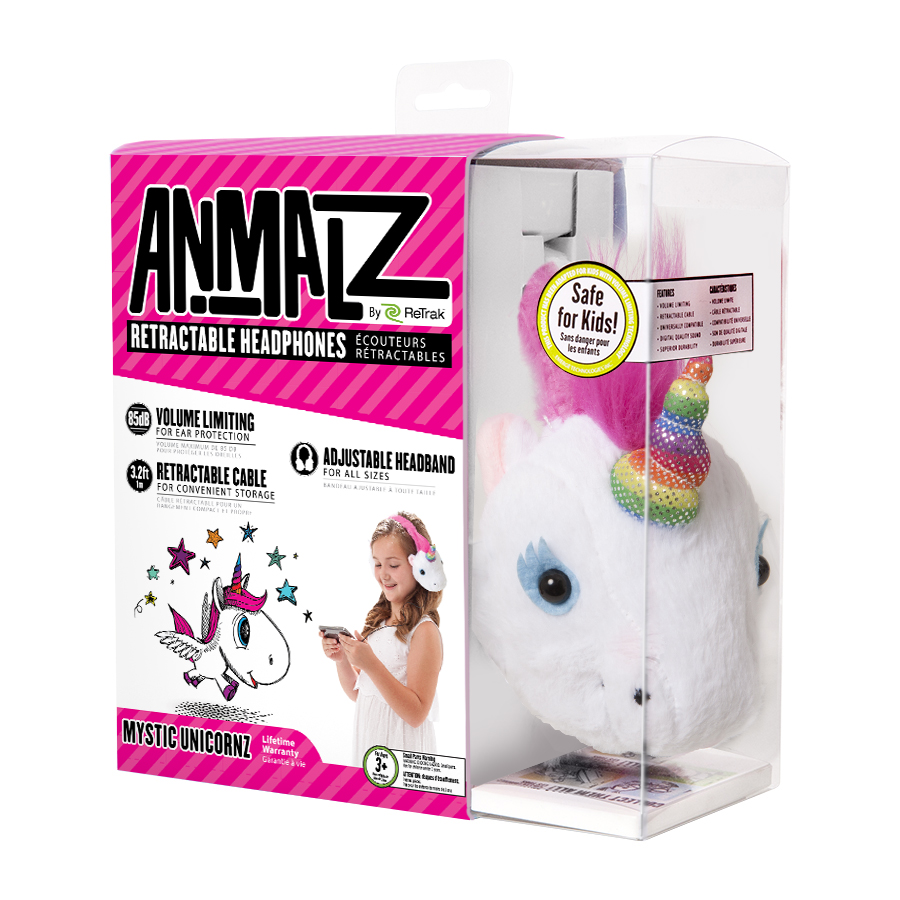 BRAND NEW – UNICORN BACKUP CHARGER 
Created for a specific well-known high street retailer, this product is due to go live shortly. It works with all smartphones and is perfect for kids and kidults.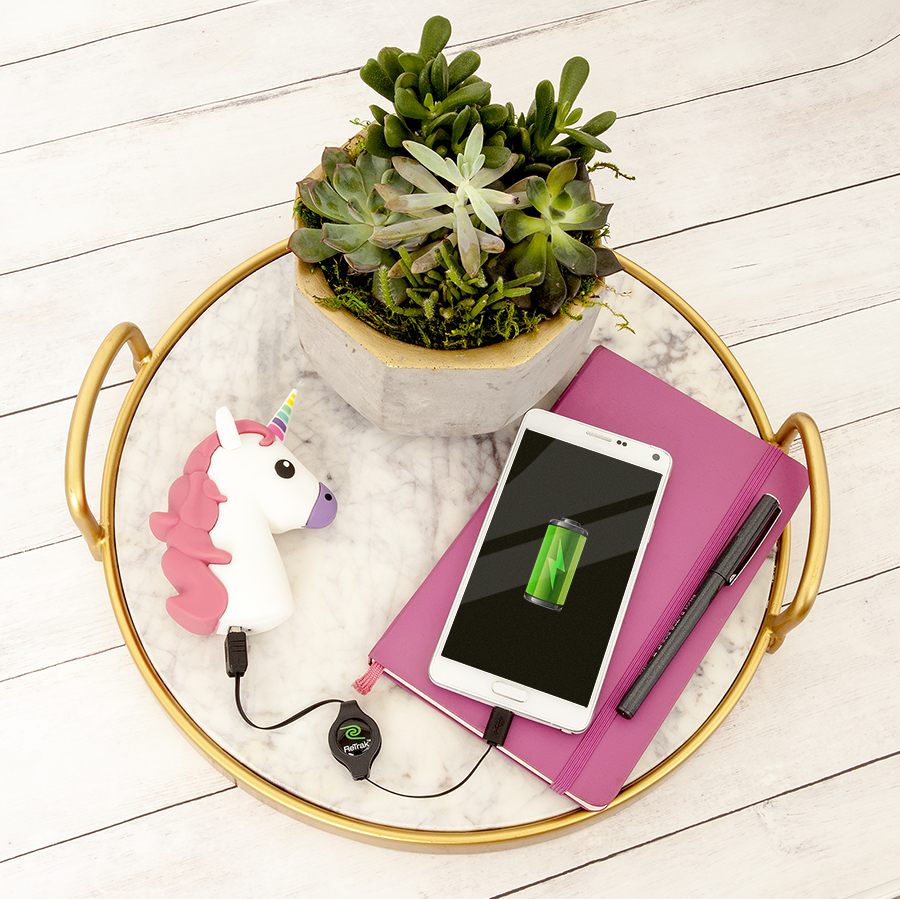 Image: Shab Ashagaria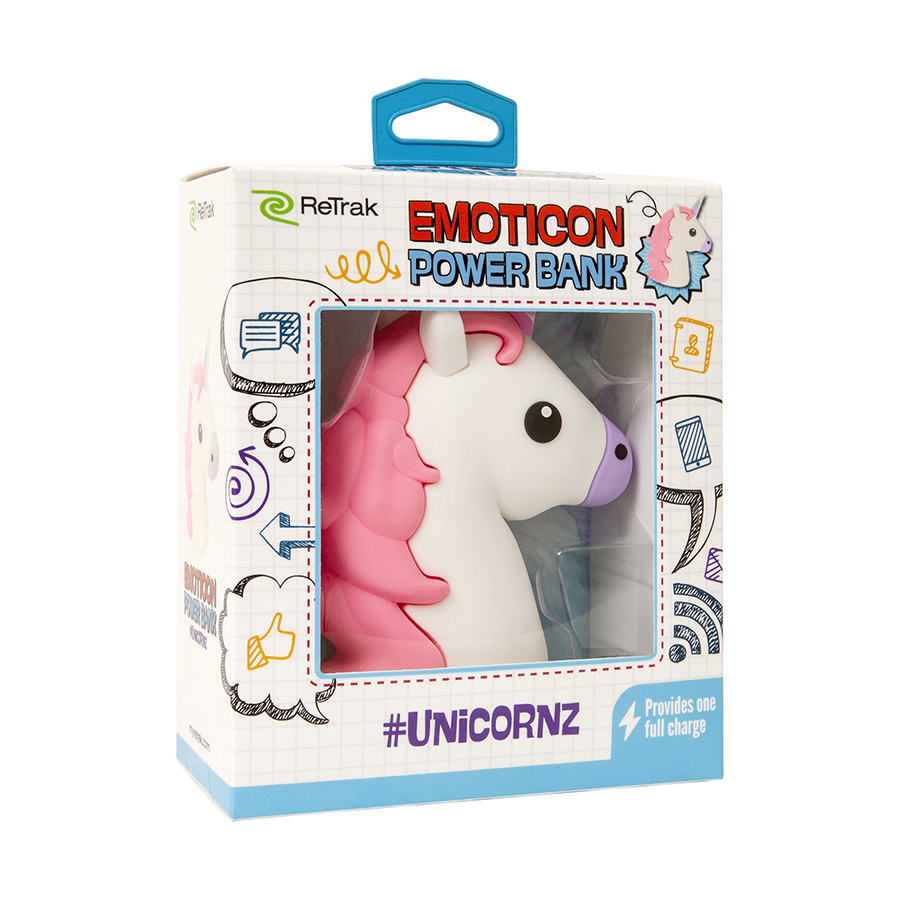 CONSUMER INSIGHTS AND INTERVIEWS
Through conducting this Unicorn inspired research I was able to speak to a lot of exciting people who use unicorns in their work. I decided that these people had such interesting stories and so much information about Unicorns, that I decided to post the transcripts for your reading pleasure.  All detailed below. Do get in touch with them if you want to hear more.

Blogger on her own site, Sparkle with Kerry, Mother, and Unicorn & glitter lover. I interviewed Kerry below. She has some very interesting answers, which I hope will help you with buying for your stores.
Why unicorns? what is it about them, that makes them so special?
When I see a unicorn, I just feel happy. To me, they represent a positive, free-spirited creature which is there to make us believe and trust in our own little piece of magic. Unicorns have been appealing throughout history too, today when you look at shops, they are brightly coloured and mainly aimed at a female audience. However, before the trend took off in the last couple of years, they were strong, usually white beasts found in ancient tales and even the first Harry Potter novels. I think for me, the unicorn is a creature I like to believe did/does exist, contrary to what the historians say!
When did you get into this trend?
I've always liked unicorns really, but never as much as I do now. Even though I don't dress like a girly-girl or own many girly possessions, I do love to indulge in the pinkest and sparkly of unicorn merchandise! I'm a primary school teacher, so Ii am forever exposed to all the cute new trends and I think this is what started it all off really. I loved all the sweet stickers and stationery that started to make itself comfortable on my desk.
I know you've have written about quite a few unicorn themed products in the past – makeup, accessories etc, how did you discover those?
I'm just drawn to them really! I think a lot of beauty brands are playing on peoples' love of unicorns at the moment and are therefore producing very sparkly cheek highlighters and sticking a unicorn label on them. I particularly love the unicorn makeup brushes which can be found in many places now – the handle of the brush is a unicorn horn! They look so nice on a dressing table, or in my case, in my MUA belt. Just type 'Unicorn Makeup' into Google and you'll be confronted by a lot of colours and sparkles!
How crazy are you about unicorns? what's the craziest unicorn themed product that you own?
Due to having a one-year-old, we actually own an inflatable unicorn! It's about the size of a dog and is just brilliant! It's an alternative to the retro Spacehoppers I had as a kid. She loves it! I own a lot of unicorn items – phone cases, clothing, pens in the shape of unicorns, a pencil case, a purse, the list goes on!
Where do you normally buy your unicorn themed products and why?
I get a lot on eBay – the brushes and phone cases were from there. Unicorn makeup can be found on TAM Beauty – an excellent, affordable makeup site. I also find that big shops like Primark are selling amazing unicorn products at the moment and I believe they are some of their biggest selling items currently. A lot of it sells out very quickly, all over the country.
What do you think is lacking amongst your unicorn themed merchandise?
I feel that a lot of unicorn merchandise is aimed mostly at girls and I don't always think this is fair. as I mentioned before, unicorns were viewed as powerful, mythical beasts in the past but are now manufactured using pinks and glitter which can be viewed as quite gender specific. Boys need to have a look in too! Not all girls love pink either – I want to see some blue and green unicorns!
What does your daughter think about unicorns? Do you watch any movies, channels? what are her favourite toys?
She likes a book about a unicorn by Julia Donaldson called 'Sugarlump and the Unicorn'. It is brightly coloured and she finds it very engaging. At the moment I am trying to let her make her own mind up about what her interests are, I don't want to push my passions onto her. If she likes unicorns later on, then that's cool but if she likes something else then that's cool with me too.
How should people contact you / follow you:

DOM&INK (aka Dominic Evans) is a freelance illustrator and dinosaur lover, based in London and from Manchester via Narnia. He loves trashy tv, skinny jeans, comics, and big hair. He  has written and illustrated two interactive adult colouring journals, 'Map My Style' and 'Map My Heart' (Huck & Pucker), designed a sweater and t-shirt collection for Rock On Ruby Clothing, and as of 2016 his work has been reposted by celebrities such as Cheryl, Little Mix, Solange Knowles, Caroline Flack, Rochelle Humes, Katie Piper, Fleur East, Melvin Odoom, Willa Fitzgerald and Bex Taylor-Klaus from MTV's SCREAM : The TV Series and more!
Why unicorns? what is it about them, that makes them so special? 
I think unicorns can symbolize many different things to people. For some, it's the idea of magic and fantasy, for others it symbolizes embracing yourself for who you are. Some may see it as a sign of hope or positivity. The fact a unicorn is a mythical creature and not a real creature adds another layer to what people connote and read into it.
How crazy are you about unicorns? what's the craziest unicorn themed product that you own? 
I love unicorns. I wouldn't say I'm obsessed but a lot of the products I design are unicorn related. I don't really own much unicorn product myself, but I have been asked to design unicorn passport holders and unicorn make up cases for a huge makeup brand (due to contracts I cannot name! sorry!)
You are a fabulous designer that creates artwork and designs for fashion magazines and retailers,  have you created any unicorn themed products and if so what were your favourites?  
Wow, thanks so much! I'd say the Christmas unicorn jumper I've designed for Rock On Ruby as it's currently sold through Not On The High Street and Etsy. It's such a great seller! I've also done makeup holders, phone cases and mugs. (See Rock on Ruby under Retailers above)
You have amassed a great following on social media. What type of person normally follows you and is into your products?  
My key demographic is normally women, young girls, teens and a wide range of the LGBTQ community. A lot of my followers and readers are curious. With my first two books being interactive colouring books, my readers like to be just as creative as me and fill the books in themselves. I think that feeds into their buying habits. They don't want any run of the mill unicorn jumper, they want an alternative, niche jumper! Another best selling design is my 'Love is Love' Unicorn top which sells out for gay prides across UK and USA.
Do you think your followers are into unicorns and if so why? 
My first book came out before I even had Instagram myself, and 'Map My Heart' had unicorns inside it. So i feel with my following building from there, it all sort of fed into itself. I think my readers and followers know to expect unicorns, but also mermaids, dinosaurs and a number of other magical creatures!
Have you considered creating a unicorn colouring book? in the style of your others? No comment as this is currently under construction!
What's next for Dominik and Ink and what trends do you see coming up in late 2017 / 2018 alongside unicorns? 
I think uni – anything. Paperchase already has mermaid cats and dogs so I feel for Christmas there will be a huge push on unicorns being any animal. I also think dinosaurs will be huge. Zara's best-selling top is the sequined dinosaur tee for women. With Jurassic World 2 also out next year there will be a HUGE buzz about dinosaurs and prints and patterns for them. Also trend-wise, I'd say lobsters, pineapples, watermelons and insects. Even better if embroidered onto a makeup case, rucksack or dress as embroidery is THE trend of 2018.
How can people contact you? 
Instagram – @domandink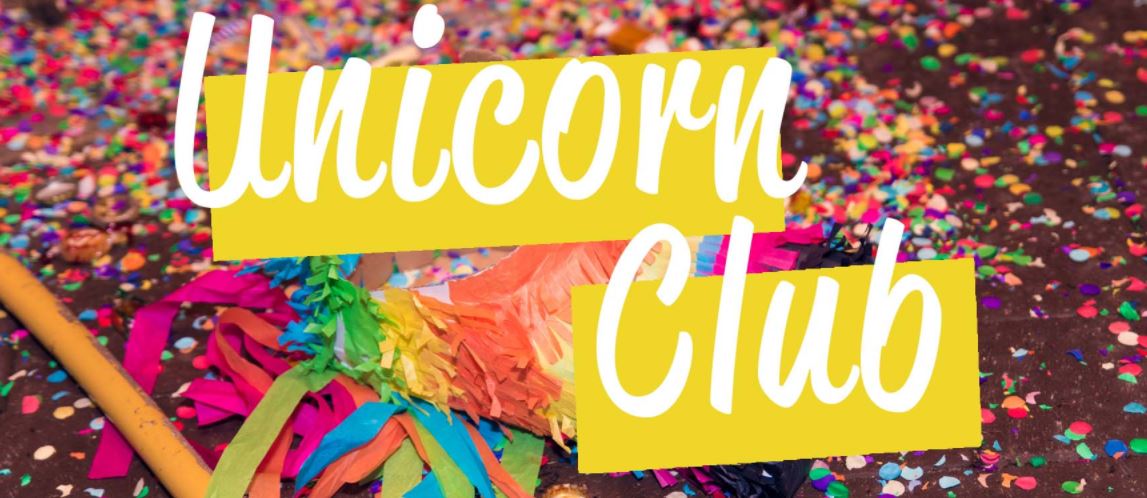 Why unicorns? what is it about them, that makes them so special? 
There's just this sense of magic, happiness and mystery about them, isn't there? They seem to add sparkle and vibrancy to everything plus you usually see them with a rainbow nearby… now, who isn't happy when they see a rainbow???
You have created a unicorn themed party for adults, why unicorns? Why not something else?
  If I'm honest, I just needed a name for the silly idea I'd just had – to put on an event that makes people feel happier, put life on hold and connect with their inner child. I'd bought and been gifted a couple of unicorn themed things and so thought Unicorn Club, why not?
Why do you think adults are so "in to" unicorns?
I think it's about escapism. Being an adult comes with all sorts of responsibilities like work, bills, mortgages, relationship and all other forms of stress and we 'forget' to have fun and let loose at times. When we're children, we're so in a rush to grow up and then we grow up and realize it's not what it's made out to be so many of us look for something to evoke that feeling of carefree youthfulness.
Another point is that although they're kinda trendy at the moment, not everyone likes them – you either really do or you don't. So if you see someone with something unicorny, you just know that they're going to be more creative, open-minded and less likely to take themselves too seriously. It's a not so secret society of slightly bonkers and individual people!
What sort of people come to your parties?
We get all sorts of people, it's great; from die-hard unicorn lovers and happiness ninja fans to blokes who have just left the office still in their suit with their laptop still in hand; and groups of friends who are just looking for an excuse to be loud and silly with one another to solo visitors with anxiety, depression and low self-esteem who have come for the benefit of the creative and mindful activities we have on offer and to make new friends.
What sort of things go on at Unicorn Club?
Well before anyone is allowed to come in, they have to visit the f*ck-it bucket. The f*ck-it bucket is where you write down things that are troubling you or that you're having a problem with, you then screw it up and chuck it inside. It's like a cathartic ritual where you literally leave all your grown-up problems at the door before coming in to escape from it all for a couple of hours.
Once you're in there's colouring in, messy arts and crafts, bubbles, plasticine, board games, twister, twisty balloons, giant space hopper jousting, fancy dress and photobooth which you can play with whilst listening to uplifting, twinkly J Pop surrounded by unicorn themed décor and fairy lights.
We have alternating entertainment at each event such as face painting, glitter body painting, magicians, life-size unicorn mascots and even unicorn-themed birthday style parties with an epic unicorn and rainbow cake. Everyone always gets a party bag filled with sweets and other surprises too.
Can people/companies commission you to put on these parties at events or at retail store for example? How would that work? 
Yes, of course! As well as the pre-organised events we put on for the public, you can get in touch to book your own private party for birthdays and celebrations. We can come to you for corporate team builds, to facilitate a workshop or run an ice-breaker session.
Alternatively, pop up / flashmob PR can be arranged as well as in-store customer experiences. Just drop me an email and we can send you some info on packages – the only limit is your imagination, really!
6. How can people contact you?
Email or phone is best:  hello@professionalrebel.co.uk
THANK YOU
Thank you for reading this report. I hope you found it as fun, informative and interesting, as I did when I was researching it.
If you have any questions about the report please contact me through this site, or contact me on linked in under Zoe Langman .